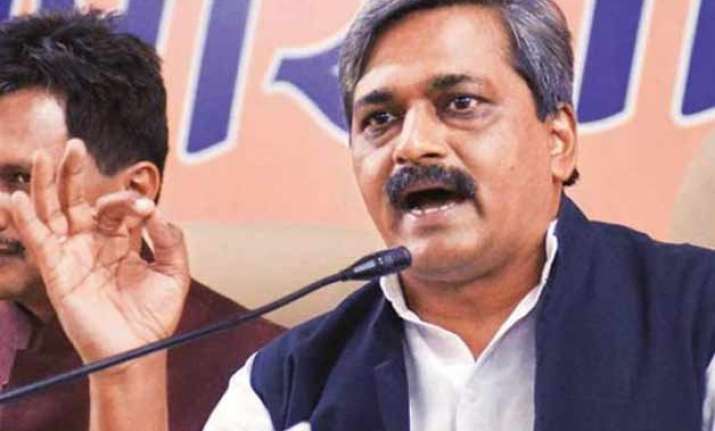 New Delhi: Delhi BJP chief Satish Upadhyay here today asked for a probe into the authenticity of the video released by AAP that purportedly shows a group of BJP workers involved in attacking the rival party's volunteers a few days ago.
"Anyone can come up with the video and claim that someone did something. What is the authenticity of the video released by the AAP? It should be probed," Upadhayay told reporters.  
A clash had broken out between AAP and BJP workers on Saturday evening during shooting for a TV news debate and vehicle belonging to AAP's Tughlakabad candidate Sahi Ram was torched later. At least 12 people were injured in the clash.  AAP leaders Ashutosh and Ashish Khetan have claimed that the BJP workers brought iron rods and sticks along with them to attack AAP volunteers.
The party has also alleged that those who attacked its workers were supporters and relatives of South Delhi BJP MP Ramesh Bidhuri and has demanded that the parliamentarian be sacked from his party.
The AAP had yesterday claimed that "video" meant that the assault was "premeditated".
"The videos nail the BJP's lie that it was a clash. The footage makes it clear that nephew of the BJP MP directed the mob to attack the AAP volunteers in the TV show. The attack was premeditated," the AAP had said in a statement.
"We deny any such allegations leveled by the AAP," the BJP Delhi chief said.
Bidhuri also has strongly rejected the allegations, terming them as baseless and politically motivated.
Meanwhile, a delegation of AAP's Delhi unit leaders met Special Commissioner of Police Deepak Mishra in the evening to demand the arrest of those who had allegedly attacked AAP volunteers at Tughlakabad on Saturday.
The delegation led by the party's Delhi convener, Ashutosh, handed over a copy of a CD containing what they claimed was "video evidence" of the attack on AAP volunteers.