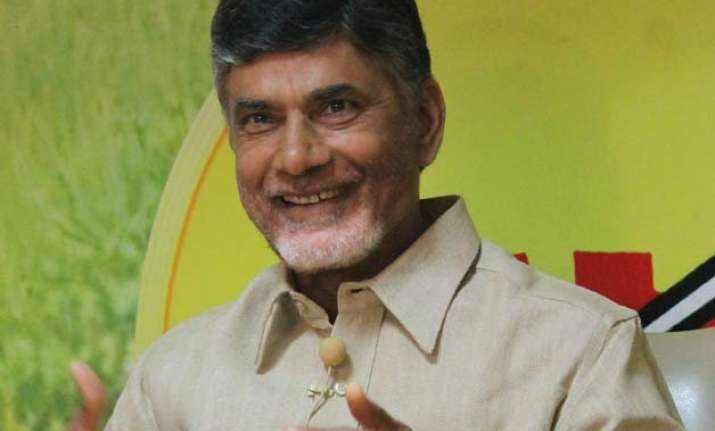 Beijing: Andhra Pradesh Chief Minister N Chandrababu Naidu arrived here today along with a big business delegation on a week long visit to China to scout for Chinese investments to rebuild his state after the separation of Telangana.
Naidu who is visiting at the invitation of the ruling Communist Party of China (CPC) International Department will address a series of meetings of business and investors to highlight the scope of investment opportunities in his state.
Besides meeting the CPC officials, Naidu will address a meeting here on "Investment Opportunities in Andhra Pradesh" to be attended by state and major private investors in China.
He would also be meeting the top officials of Foxcon, a Taiwanese owned electronic firm which manufactures a host of items for companies like Apple, Samsung, Dell as well as Xiaomi, the Chinese phone maker whose cheap smartphones took India by storm.
Officials of the Indian Embassy who are organising Naidu's visit said that the focus of his meetings will be building a new capital city as well as launching other large-scale development projects in the state.
The specific areas of business interest of his delegation are road construction, renewable energy, metro and railway, auto and auto components, heavy machinery and equipment, IT and electronics, white goods, pharmaceuticals, textiles, solid waste management, vocational training and education, they
said.
The meeting will provide information to Chinese enterprises about upcoming investment and business opportunities in Andhra Pradesh. It will also offer a platform for interaction with the top government and business leadership of Andhra Pradesh.
Besides Beijing, Naidu will be visiting Chengdu and Shanghai where he will be addressing similar meetings. He has already visited Japan and Singapore to get foreign direct investment from those countries.
Officials said Naidu's visit is similar to that Prime Minister Narendra Modi who made several visits to China when he was the Chief Minister of Gujarat to study the Chinese model of development as well as to get Chinese investments. Gujarat has the highest number of Chinese industrial investments in India.
Modi is expected to make his first visit to China as Prime Minister, next month.