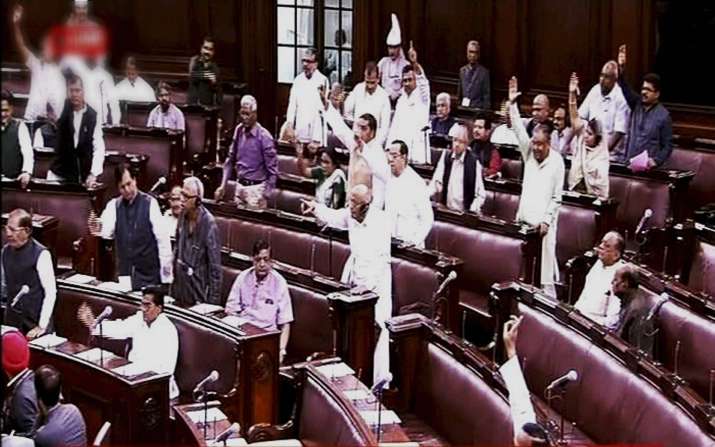 Amid concerns over possibility of EVM tampering, members in the Rajya Sabha today sought the use of voter-verified paper audit trail (VVPAT) machines and called for bold electoral reforms like state funding of polls and audit of election spending by political parties. 
Participating in a short duration debate on electoral reforms, members also expressed grave concern over exorbitant expenses incurred by some parties in hiring aircraft and helicopters for campaigning. 
"Election Commission (EC) has send 11 letters to government and one SOS (save our soul) message to the Prime Minister about the use of these paper trail machines. Since the Government has not responded to the EC's communique, the people are doubting the intention of the government," Leader of Opposition Ghulam Nabi Azad said. 
The paper-trail machine gives a receipt to the voter verifying the vote and the candidate in whose favour the button has been pressed on the electronic voting machine(EVM). 
Azad said there were doubts on the EVM system, especially when developed countries like United Kingdom, Germany and Italy, were not using it. 
When some BJP MPs intervened and asked whether elections can be conducted again without EVMs in Punjab, Azad replied "We are ready. But you should also conduct election in Uttar Pradesh again in that case." 
Azad told the House that the Supreme Court had ordered the use of VVPAT machines in October 2013 and the expenditure on this was estimated at Rs 3,100 crore then. "You have been holding it. If you start acting now, you would be able to do it by the 2019 Lok Sabha polls." 
He also drew attention towards the "exorbitant" expenditure by some political parties like use of helicopters and aircraft during elections, breaching the spending limit. 
Initiating the debate, Mukul Roy (AITC) said there should be an audit of expenditure during polls on public meetings or air transportation by the political parties, which should be tabled in the House. 
Roy also demanded state funding for political parties for contesting elections, saying without state funding, only the big and resourceful parties would be able to contest polls. 
Bhupender Yadav (BJP) said "we need to think about simultaneous (Lok Sabha and assembly) elections. A state remains affected for more than a year due of various elections and the model code of conduct." He also stressed the need to move towards e-voting. 
Ram Gopal Yadav (SP) said it was not feasible to hold simultaneous elections to Lok Sabha and state assemblies as there were many loopholes in the current electoral system. 
Money-power play in buying votes, exorbitant expenditure on campaigning, apprehensions about tampering of EVMs, misuse of the media and transfer of bureaucrats were some of the loopholes seen during these elections, he said. 
"Those who manufacture EVM machines, if a deal is fixed, if you press the symbol of Elephant, it goes to Lotus. It is possible," he said. On poll expenditure, he suggested inclusion of party funds to the expenditure of a candidate. 
CPI(M) leader Sitaram Yechury said electoral reforms in the country required removing of various infirmities from the system. 
Terming the proposal of electoral funding by bonds and Rs 2,000 limit person as "mere eyewash", he said such initiatives would not be of much help but in the contrary open new avenues of money laundering. 
"If we really want to reduce the role of money in the electoral process, there needs to be a ceiling on expenditure by political parties," Yechury said. 
He also suggested banning corporate funding to political parties as part of the process to cleanse the system. 
"Corporate funding to political parties should be banned. Let there be a state fund which could be managed by the Election Commission," Yechury said. 
He said there was a widespread feeling that the demonetisation exercise was initiated to help the ruling party in the elections. "Money power has reached a crescendo which we have seen in the recent elections," Yechury noted. 
He also emphasised the move towards a partial proportional voting system, terming the current system as a "weakness" which the country needed to reconsider. 
"This distortion where there is no rule of majority can only be corrected by a partial proportional representation system," Yechury said. 
On EVMs, he said the government is not releasing funds so that systems with paper trail could be used in the elections. "If there is a dispute you can count the paper ballot. When Supreme Court has ordered you to do so, why are you (government) is not doing it?" 
On holding of simultaneous polls, he asked the government whether it was "prepared to remove Article 356 from the Constitution. If you remove it, then you can have simultaneous elections." 
"It is your plan to move to a Presidential system from the current Parliamentary form of governance through a back door entry," Yechury alleged. 
Satish Chandra Misra (BSP) said there was a need to look seriously into the defection of members from one political party to another. 
Citing the example of Telangana, he said two members of his party defected and were made ministers. 
On EVMs, he said various countries like Germany, US, Ireland and Japan have stopped using such machines while they were being used in India.
 
He said even if there was a one per cent chance that the machines could be tinkered with, "we have a right to demand" that elections be held using paper ballots. "Even if there is one per cent chance of tinkering with the EVMs, it is not a free and fare election." 
"People are screaming on the streets. They have been cheated. Fraud has been done with them via EVMs," he said. 
Misra's charge led to heated exchanges between the ruling party and the Opposition as he also charged the government for not using the VVPAT machines during the UP elections. 
"In Goa, these (VVPAT) machines were used in all the assembly seats. There your (BJP) tally has come down from 21 to 13," he said.