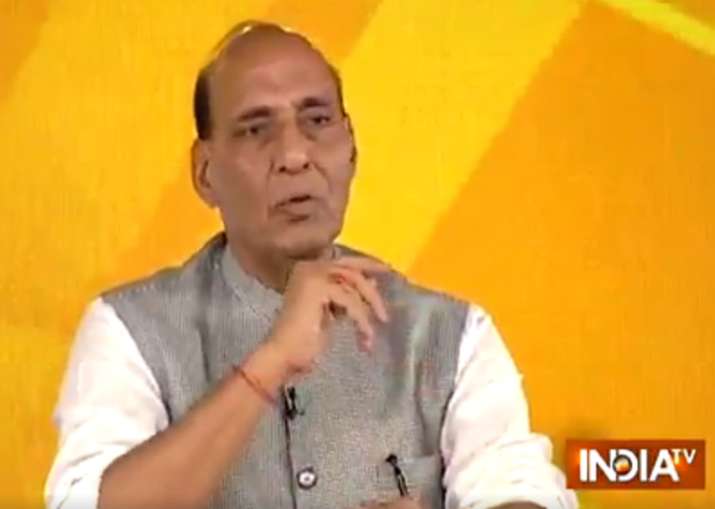 Hinting at a surgical-strike like action against Pakistan to avenge the killing and mutilation of two security personnel, Home Minister Rajnath Singh today said that it had taken India 10-15 days to launch action after the attack on an Army base in Jammu and Kashmir's Uri in September last year. 
"Even for surgical strikes, it took us 10-15 days. Wait and watch. It would be wrong to believe that nothing is happening. 
"I can assure you on behalf of our government that we will not let the heads of our countrymen hang in shame. It is not like we do not feel the pain and we will not let that pain stay for a long time," Singh told India TV's Editor-in-Chief Rajat Sharma.
Took 10-15 days for #SurgicalStrike, its not like we're not doing anything: @rajnathsingh on retaliating to #Pakistan in #IndiaTVSamvaad pic.twitter.com/0CjQDkpiYQ

— India TV (@indiatvnews) May 15, 2017
On the possibility of holding talks with Pakistan, Singh said it was up to them to make any such proposal and India will consider it. However, he expressed a note of caution saying that Pakistan has "betrayed us on many occasions."
Speaking on the Kashmir issue at India TV conclave 'Samvaad', the Home Minister said, " It is up to them to propose any talks but we will consider it. But Pakistan is not trustworthy at the moment. Their civilian leadership wants something, their army wants something else. Pakistan has betrayed us on many occasions." 
The Home Minister further said that the fencing of the India-Pakistan border was being done on war footing and 100 per cent work will be done by 2018.
"We are working to make our borders with Pakistan secure by fencing. We will be able to achieve the target by 2018. We face some challenge in fencing because of geological conditions so we are taking technical help. We are also using sensors and other technical devices to plug in the gap in the fence," he said.
Touching upon the issue of disturbance in Kashmir, Rajnath said what was being shown on TV channels was an exaggeration. 
"Whatever is being shown on TV channels about Kashmir is an exaggeration. We should not say that stone pelting is happening across Kashmir, when it is happening at a few places only. There are nationalists in Kashmir too. Wrong perception should not be created based on a few incidents" Singh said. 
Refusing to believe that the situation in Kashmir is at its worst, the minister said that the problem is not of 3-4 years and has existed for long. He said that the history of Kashmir tells us that conditions deteriorate every 3-4 years.
When asked about the government's plan to normalise the situation in the state, he said, "I think not a single person should die in Kashmir. We can not tell what we are doing, what is being done and what we are trying to achieve but we will show you the results."
Hailing Lieutenant Ummer Fayaz as a role-model for Kashmiri youth, Rajnath said there is grief for him in Kashmir. 
On the possibility of holding talks with separatists in Kashmir, Rajnath said he had gone to the state three times and had invited all stakeholders for talks. 
Leave it to us, we'll take out a solution: @rajnathsingh on #Huriyat in #IndiaTVSamvaad pic.twitter.com/4QyAQoKhMh

— India TV (@indiatvnews) May 15, 2017
"I have gone to Kashmir thrice and invited all stakeholders to talk but nobody turned up to meet me. We did not stop leaders from the opposition parties when then went to the Valley to meet separatists, but doors were closed on them," he said. 
The Home Minister said that the entire fund of promised Rs 90,000 crore package for Jammu and Kashmir will be released to the state when 50-60 per cent of it is spent.
Targeting Pakistan for spreading terrorism, Rajnath said Islamabad cannot even differentiate between freedom fighters and terrorists.
"Terrorism is a state policy of Pakistan, they cannot even differentiate between freedom fighters and terrorists. India has been successful to globally isolate Pakistan on terrorism issue," he said. 
The Home Minister said that terrorism is a global menace and India is fighting to eliminate it from the world. 
"Terrorism is not a problem for one or two countries. Almost every country in the world is a victim of terrorism. Terrorism cannot be eliminated completely only by removing it from India. Our attempt is to eliminate terrorism from the world," the Home Minister said. 
When asked by the audience on the steps taken to counter violent Left Wing Extremism, Rajnath said the Modi government has brought down the number of incidents in last two years and will remove it completely. 
"We recently held a meeting of state chief secretaries after Sukma attack. We have adopted a new doctrine to combat Naxalism. If you look at the number of incidents since the beginning of Maoism, least Naxal attacks took place in last three years. There has been drop in Maoist incidents by 35-40 per cent in last two years alone. Even in terms of surrender of Maoists, there is a rise of 450 per cent," he said. 
Compared to before, the #Naxals who have surrendered have increased by 450%: @rajnathsingh in #IndiaTVSamvaad pic.twitter.com/LU4BuVZRWN

— India TV (@indiatvnews) May 15, 2017
Agreeing with Congress leader Jyotiraditya Scindia that development is necessary to combat Naxalism, the Home Minister said the development projects undertaken by the UPA government is being continued by the current regime. 
"Naxals do not want any progress in their areas, hence they oppose the same. I agree that we cannot combat Naxalism only by gun, development work is also essential. Whatever development works were undertaken by UPA govt are being continued by us," he said. 
The minister also emphasised on strengthening intelligence agencies but denied that all Naxal or terror attacks were a result of intelligence failure. 
Speaking on police reforms, Rajnath said there is some problem in behaviour of our cops and the Centre is taking steps to change it. He, however, said it will be injustice to the police forces to say that they do not do anything.
On the growing number of incidents of violence by cow vigilantes, Rajnath said the Law and Order is a state subject. 
"It is a law and order issue which is a state subject but I would request all state govts to not let anyone take the law in their hands," the minister said. 
On the recent incident of brutal rape in Rohtak in Haryana, the Home Minister said that women safety is also a state subject but the Centre provides all help.
"These are all state government's responsibility, we issue advisory and provide help," he said.