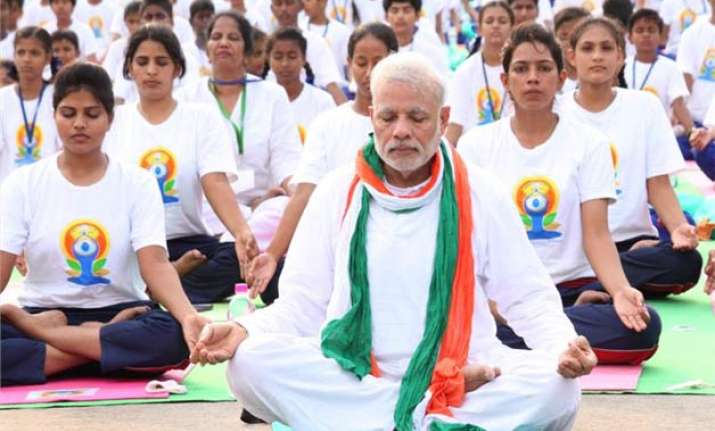 New Delhi: An RTI reply has revealed that the AYUSH (Ayurveda, Yoga and Naturopathy, Unani, Siddha and Homeopathy) Ministry does not recruit Muslims as a policy.
A report in the Milli Gazette, a fortnightly newspaper highlighting the issues of the minority community, claimed that the AYUSH Ministry replied that it didn't hire Muslims. "As per government policy - No Muslim candidate was invited, selected or sent abroad," the Ministry was quoted as saying in the RTI reply.
However, AYUSH Minister Sripad Naik strongly denied the claims saying, "It is totally false. I strongly condemn it. It's an attempt to defame us, I will order a probe into the matter."
The Ministry, according to the report, mentioned that a total of 711 Muslims had applied for the short-term overseas assignment as yoga trainers but no one was selected. A list of 26 selected trainers, all Hindus, was also provided by the concerned department.
The RTI query was filed by journalist Pushp Sharma, who had asked about Muslim teachers and trainers recruited by the AYUSH Ministry for foreign assignments during the World Yoga Day last year on June 21, 2015.
The report also stated that the Ministry rejected the applications of 3,841 Muslim candidates till October, 2015 who had applied to be yoga trainers, apart from the yoga day assignments outside the country.
"Here we have for the first time in the life of this government, a written, blunt RTI reply in our hands which unashamedly says that it's Modi government policy to not recruit Muslims in government jobs," the Milli Gazette report reads.
The Ministry of AYUSH was formed with effect from November 9, 2014 by elevation of the Department of AYUSH. Before this, it was operated under the Ministry of Health and Family Welfare. The Ministry's objective is to develop education and research in ayurveda, yoga, naturopathy, unani, siddha, and homoeopathy, and other alternative medicine systems.