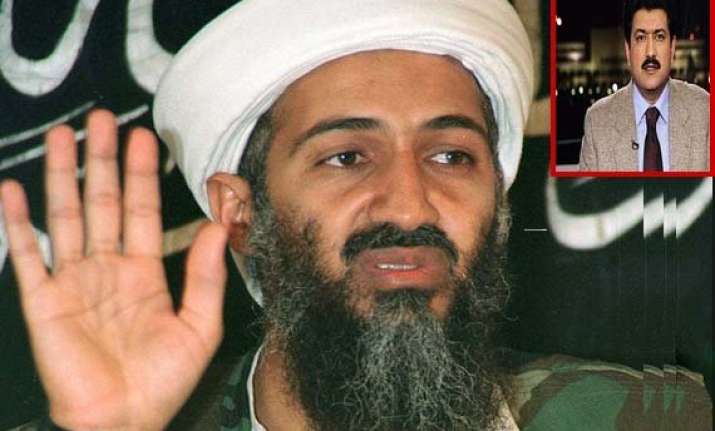 New Delhi: Pakistani Geo News TV channel chief editor Hamid Mir, the world's only journalist to have done three interviews of the late Al Qaeda chief Osama bin Laden, has described him as a "lady killer"
In an interview to Indian Express editors in New Delhi, Hamid Mir said: "There was a big contradiction between his actions and his way of speaking. Whenever I met him, I got the impression I was meeting a lady killer. Very smart, very charming."
The Pakistani journalist described how it was Taliban's one-eyed chief Mullah Omar who fixed up his first interview with Osama bin Laden in Afghanistan.
During his meeting with Mullah Omar in Kandahar, the Taliban chief said: "If I fix your meeting with a big enemy of America, then will you write that I am not an American agent?".
Hamid Mir said: "I asked who is that enemy. He said Osama bin Laden. That was end of 1995 and Osama bin Laden was not in Afghanistan at that time. He came to Afghanistan in May 1996, then the government of Benazir Bhutto was toppled in November 1996.
" Nawaz Sharif came to power and in March, 1997, I was contacted by the Information Minister of the Afghan Taliban government, Amir Khan Muttaqi. He said, do you remember your meeting with Mullah Omar? I said yes. He said, he made a promise to you and he is a man who always fulfils his promise. So that's how my first meeting with Osama bin Laden was organised in Tora Bora."
"...I met Osama bin Laden again in 1998. When I was going to meet him, I was arrested by the Taliban, because they came to know I would interview him. An in those days, they were under pressure from the Sharif government to impose restrictions on Osama under American pressure...The police station where I was detained was attacked by Al-Qaeda. So I came to know about the internal differences and contradictions. And then after 9/11, in November, 2001, I met him again."
Asked to describe his meeting with Osama bin Laden, the Pakistani journalist said: "I asked him many questions, including why he carried out the attacks on New York and Washington. He did not accept responsibility but praised those who were part of the attack, and then he criticised the Pakistan government's policies.
"There was a rumour that Osama bin Laden was married to Mullah Omar's daughter. He said no.
"There was a change in his attitude. When I interviewed him in 1997, he was not talking about Palestine or jihad against America. In 1997, he was proposing a regional alliance between Afghanistan, Pakistan, Iran and China. His thinking was strategic. But after 9/11, when I met him, he was talking about Khilafat, Palestine and jihad against America."
"...After his death, Al Qaeda was shattered but now they are re-organising. I think this new South Asia chapter of Al Qaeda is very dangerous. We should not underestimate it..If India and Pakistan, god forbid, fight each other, it will be the ultimate beneficiary. It can organise a big attack in India, a big attack in Pakistan, maybe in Afghanistan", said Hamid Mir.