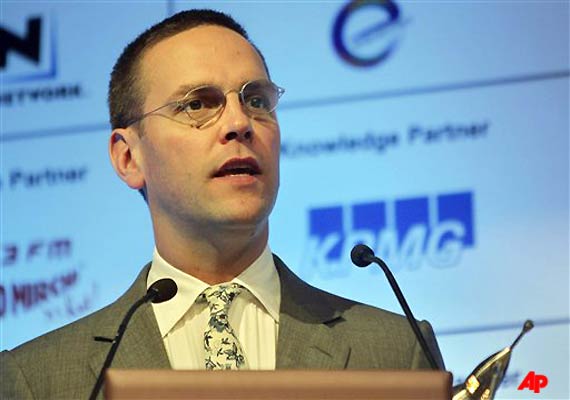 London, Jul 7: The tabloid newspaper News of The World  will be published for the last time on Sunday after it was rocked by the phone hacking scandal.

News Corp chief James Murdoch said in a statement: ''Having consulted senior colleagues, I have decided that we must take further decisive action with respect to the paper. This Sunday will be the last issue of the News of the World.''

The shock development came as police said there could be as many as 4,000 victims of phone hacking by the paper, which has been published for 168 years.

Murdoch said this Sunday's edition of the News of the World would have no commercial advertisements and all the revenue from sales would go to good causes.

He praised the paper's achievements but condemned this week's revelations that phone hacking victims may have included murdered schoolgirl Milly Dowler, bereaved military families and relatives of 7/7 bombing victims.

He said: "The good things the News of the World does, however, have been sullied by behaviour that was wrong. Indeed, if recent allegations are true, it was inhuman and has no place in our company."

 Murdoch admitted that the paper's internal inquiry into earlier phone hacking claims was inadequate.

News of the World royal editor Clive Goodman and private investigator Glenn Mulcaire were jailed in 2007 after plotting to intercept voicemail messages left for royal aides.

Murdoch accepted that the paper made statements to Parliament "without being in the full possession of the facts" and said he wrongly approved out-of-court settlements without having a "complete picture" of what had happened.

He went on: "The News of the World is in the business of holding others to account. But it failed when it came to itself.

"In 2006, the police focused their investigations on two men. Both went to jail. But the News of the World and News International failed to get to the bottom of repeated wrongdoing that occurred without conscience or legitimate purpose.

"Wrongdoers turned a good newsroom bad and this was not fully understood or adequately pursued.

"As a result, the News of the World and News International wrongly maintained that these issues were confined to one reporter.

"We now have voluntarily given evidence to the police that I believe will prove that this was untrue and those who acted wrongly will have to face the consequences. This was not the only fault.

"The paper made statements to Parliament without being in the full possession of the facts. This was wrong.

"The company paid out-of-court settlements approved by me. I now know that I did not have a complete picture when I did so. This was wrong and is a matter of serious regret."

Labour MP Tom Watson told Sky News: "Let's be clear about this, this paper has closed but the hacking saga has not.

"The issue for me today is not whether Rupert Murdoch closes a paper that was going to go bankrupt because there are no advertisers or readers left, it is whether Rebekah Brooks is going to consider her position and resign as chief executive of News International.

"The anger will only subside when a very senior executive in this company takes responsibility for this heinous attack on British people."

 Watson added: "There are only two people in the country left who are supporting Rebekah Brooks today - Rupert Murdoch and David Cameron. I'm surprised she even bothered turning up to work this morning."

The MP said: "No one was going to buy this paper any more. No one was going to advertise in it. They destroyed it. The people who were hacking phones, they were the people who closed this paper.

"I feel very sorry for honest journalists who are left at the paper and I actually have a degree of sympathy for the outgoing editor Colin Myler who, I think frankly has had to carry a heavy load for the wrongdoing of other people in the organisation."