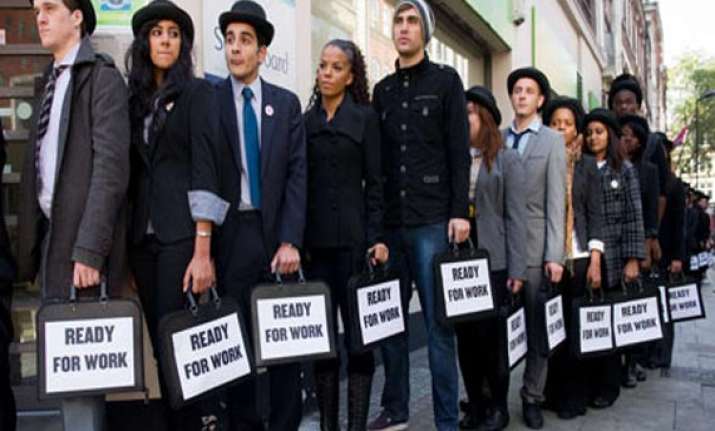 Washington: The number of jobs in the US continued to paint a bleak picture of the ongoing unemployment crisis in the country, as experts said that at current rates America will have to wait years to return to pre-recession levels of unemployment.
The jobless rate inched down marginally in August from 7.4 percent to 7.3 percent, Xinhua cited figures from the US Bureau of Labor Statistics as saying.
The US economy added a paltry 169,000 jobs.
"At this rate, it would take until well into 2021 to fill our gap of 8.3 million jobs and return to a healthy labour market," said Economic Policy Institute economist Heidi Shierholz.
The US jobs market has been struggling for years now, since the economy tanked at the end of 2007 and sparked a global economic downturn.
While a number of metrics have improved, the jobs crisis remains unsolved, with 11.3 million unemployed and millions more "underemployed" -- a term defined as part-timers seeking full-time work.
"Furthermore, though the unemployment rate dropped in August, it was for all the wrong reasons," she said.
The labour force participation rate dropped to 63.2 percent.
Noting that unemployment figures do not include individuals not seeking work, she calculated that if the missing workers had been added to the equation, the jobless rate would stand at 9.5 percent.
Brookings Institution senior fellow Justin Wolfers said jobs growth remained weak despite what seemed good news on the surface.
Growth in July was revised downward from 162,000 to 104,000 new jobs, with June also seeing a downward revision.
"Taken together, this month' s revision means we've created 74,000 fewer jobs than previously believed," he said.
Echoing the sentiments of other economists, he said: "The decline in the unemployment rate isn't due to folks getting jobs. Instead, it's due to people dropping out of the labour force."
"Bottom line, this report says that we're barely creating enough jobs to keep the unemployment rate falling from its current high levels," he said.
"Policymakers have been looking for a signal that the recovery has become self-sustaining. This report doesn't provide it."