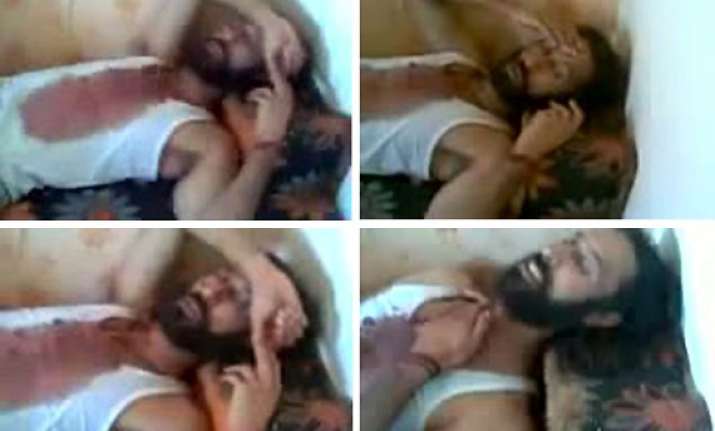 London, Oct 21: The Daily Mail  has published unnerving pictures from AFP to show how Gaddafi's son Mutassim, shot in the chest with his vest soaked in blood, sat against a wall, smoked a cigarette, swigged from a bottle of water and them slumped dead.

Sitting against a wall and smoking a cigarette while swigging from a bottle of water, his white vest covered in blood, this is Gaddafi's loyal son Mutassim after he was captured by rebels.

Mutassim, a senior army officer and security adviser, was later pictured still alive and lying on a sofa.

The new Libyan government's TV channel broadcast a close-up showing Mutassim in what appeared to be a hospital.




The next time he was to be pictured he would be lying dead on a stretcher having been shot in the throat and abdomen.

The events leading up to Mutassim's death are unclear. A military source in Misrata would only confirm that he was shot in the neck and killed.

Mutassim died alongside his father after they were discovered cowering in a drain under a motorway in Sirte.

'Mutassim is dead. I can confirm it,' said government information officer Mahmoud Shammam.

Mutassim had fled to Egypt after masterminding a failed coup against his father. He was forgiven and returned to Gaddafi's side as national security adviser.




Before he was captured by forces loyal to the NTC the circumstances are a little clearer.

A final airstrike was launched after RAF Tornadoes carried out surveillance missions, clearing the way for French fighter jets to bomb a convoy

Mutassim and his father were both in the convoy which turned back into Sirte which had become overrun by freedom fighters.

Nato, however, was unaware that the dictator was in one of the vehicles.

At least 50 Gaddafi loyalists were killed in the aerial bombardment on around 100 vehicles that were trying to escape the city where the Colonel was born.

His father, with injuries to both legs, escaped with bodyguards through trees until they hid in the concrete sewers where they were spotted by rebels.




Gaddafi's fifth son, Mutassim enjoyed a notoriously lavish lifestyle that was far removed from the straitened circumstances of most Libyans.

Mutassim's ex-girlfriend, Dutch glamour model Talitha van Zion, recently told how he would each Christmas fly himself and an entourage to the Caribbean island of St Barts in his private Boeing.

He paid for singers such as Beyonce and Mariah Carey to sing at the Barts parties which were attended by guests such as Jon Bon Jovi, Lindsay Lohan and the rapper Jay-Z.

When he was staying in London or Paris, he would take over several floors of the most expensive hotels, flying in top hairdressers from Italy.

She said Mutassim, who worshipped his father and admired "strong leaders" like Hitler, once told her he spent pounds 1.3 million a month maintaining his hedonistic life.

Talitha escaped from Libya on a humanitarian ship to Malta after rebels captured her and threatened to burn her alive.
She spoke about drinking Jack Daniels and coke with Mutassim as he toasted a victory over the rebels a week before her departure in August.

Talitha had been in the country to visit Mutassim despite the fact that they were no longer in a relationship.