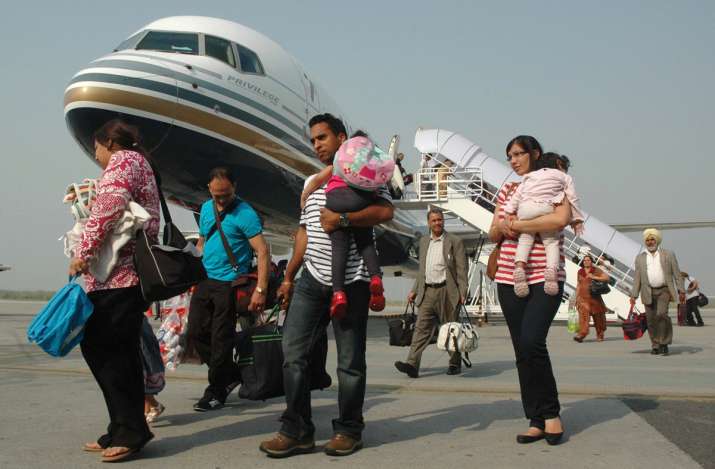 After H-1B visa-holders, it's the turn of their spouses to come under firing line of the Trump administration which is working overtime to find ways and means of cutting down immigrant labour and foreign workers.
According to a report in Times of India, US Department of Justice (DOJ) has filed a brief in the Washington DC court of appeals seeking a 60-day freeze in a case involving employment authorisation for H-4 visa-holders.
H-4 visa-holders are essentially  dependent spouses of H-1B visa-holders, who won a hard-fought permission to work in US way back in February 2015 when Obama administration was in power.
After years of pleading by the spouses of H-1B visa-holders, Obama administration allowed them to be employed till the time the H-1B visa-holder received his/her lawful permanent residency card i.e. green card.
Obama administration's decision was challenged in a district court by a group called 'Save Jobs USA'.
However, the district court ruled that it had no locus standi to sue and upheld the Obama administration's rule.
Immediately after Donald Trump administration took over the reins of power, 'Save Jobs USA' took the case to the appeals court.
Extending support to 'Save Jobs USA' in this case, the Trump administration filed a document on February 1, 2017 titled "Consent motion to hold proceedings in abeyance for 60 days", asking the court to "allow incoming leadership personnel adequate time to consider the issues".
The immigrant community in US is worried over the response of Trump administration in this case. 
They also recall how the attorney general Jeff Sessions called the H-4 rule a "change in immigration law in a way that hurts American workers", when he was a US senator. 
"Any failure to provide the strongest possible defence of the district court's decision risks establishing a precedent prohibiting H-4 visa-holders from working under the current statutory regime," Aman Kapoor, co-founder and president of Immigration Voice, told TOI.
Immigration Voice has filed a motion to intervene in the case on behalf of thousands of H-4 visa-holding spouses.