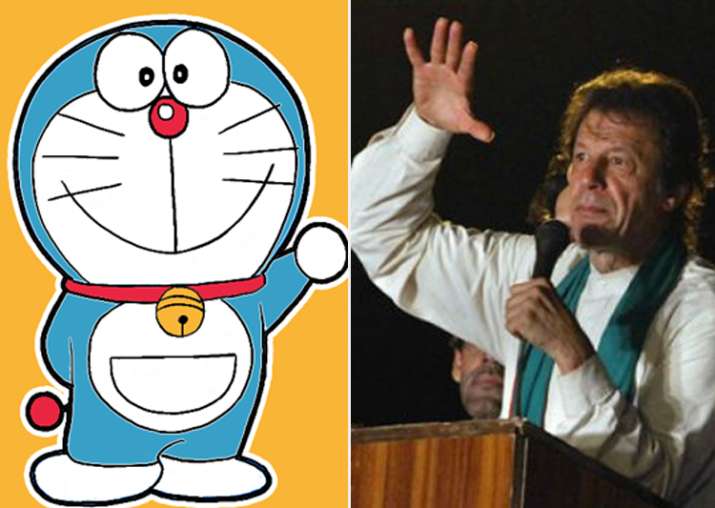 The Imran Khan-led Pakistan Tehreek-i-Insaf (PTI) has called for a ban on popular Japanese manga and anime series Doraemon in Pakistan, Dawn.com reported today. 
The demand was made by the PTI through a resolution in the Punjab Assembly on Wednesday.
Submitted by PTI lawmaker Malik Taimoor, the resolution urges Pakistan Electronic Media Regulatory Authority (PEMRA) to ban cartoon channels in general, and Doraemon in particular. It has also suggested limiting the hours of cartoon channels.
The resolution does not clarify the reason why the party wants the iconic cartoon banned. However, it added that the cartoons were having a "harmful impact on children".
"Cartoon channels on 24 hours are having a negative impact on the educational and physical well-being of children," read the resolution, which is likely to be discussed in the next assembly session.
"The language that is used in the cartoons is destroying our societal norms," the resolution said. 
A PTI spokesman said Taimur Malik was not towing the party line and the resolution was Malik's individual initiative, the newspaper reported. 
"It is not party policy, Taimur Malik from PTI Rawalpindi initiated it," PTI office bearer Mian Mahmood was quoted by the Dawn.com. 
Mahmood added that Malik is under the impression the cartoons air throughout the day, and have been "dubbed in the Indian language".
"There should be specific timings. Foreign culture and Indian language are having a great impact on young children who are impressionable," said Mahmood.
"We do not want a ban, just controlled timings," Mahmood clarified.
#PTIvsDoraemon was among the top trends of day on Twitter in Pakistan.
The story of popular manga series revolves around a robotic cat named Doraemon, who travels back in time from the 22nd century to aid a pre-teen boy named Nobita Nobi.