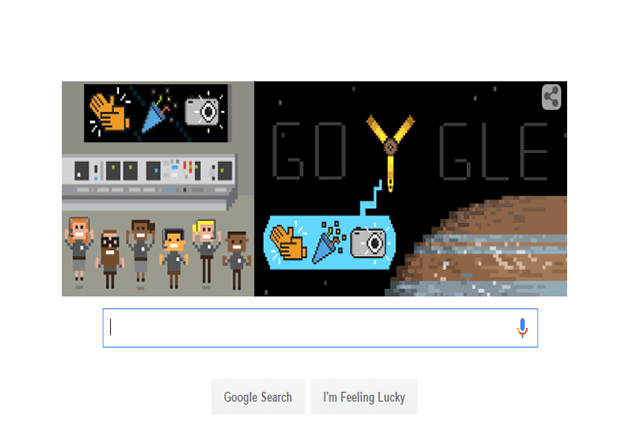 Washington: NASA's Juno probe successfully entered the orbit of our solar system's largest planetary inhabitant after after a five-year, 1.4 billion-mile voyage.
This historic moment has been marked with a special Google Doodle that says "Juno reaches Jupiter".
The Google Doodle displayed mini-cartoon scientists jumping and cheering at the news, as well as some celebratory emoji from the probe itself.
"A NASA satellite built like a tank is settling into polar orbit around Jupiter, the mysterious gas giant two doors down from Earth," Google said in a statement on Tuesday.
"Today's Doodle celebrates this incredible moment of human achievement. Bravo, Juno!," it added.
The Juno mission was launched on August 5, 2011 with the primary aim of improving our understanding of the solar system's beginnings by revealing the origin and evolution of Jupiter.
With its suite of science instruments, Juno will investigate the existence of a solid planetary core, map Jupiter's intense magnetic field, measure the amount of water and ammonia in the deep atmosphere, and observe the planet's auroras, according to NASA's mission profile.
(With Agency input)