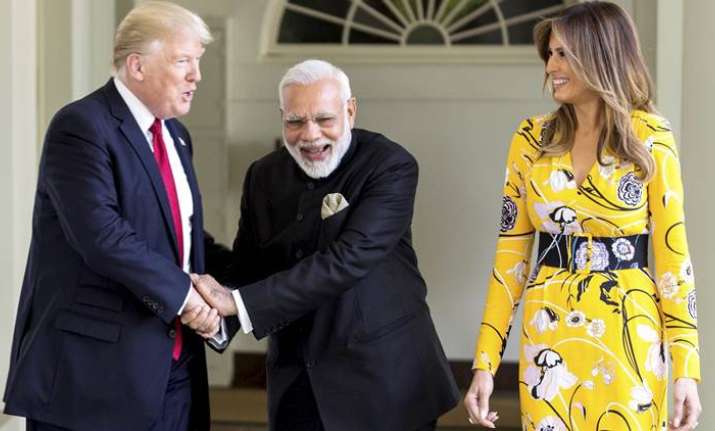 Mispronunciation, awkward meetings, lack of telephone etiquette and, now, a lack of familiarity with South Asia, the list of alleged diplomatic faux-pas by United States President Donald Trump continues to grow. 
In a latest compilation of such mistakes allegedly committed by Trump in office, US-based media house has listed an incident where he Bhutan as 'button' and Nepal as 'nipple'. What more? the US president reportedly tried to set-up Prime Minister Narendra Modi with someone. 
Ahead of the meeting last year with PM Modi at the White House, Trump allegedly studied a map of South Asia and mispronounced Nepal as "nipple" and referred to Bhutan as "button," Politico said, quoting two unnamed sources. The president seemed confused that the two countries - which border India - even existed, the report says.
"He didn't know what those were. He thought it was all part of India," a source told Politico. "He was like, 'What is this stuff in between and these other countries?'"
After Trump's staffers told the president that PM Modi would not be bringing his wife along to the meeting at the White House, Trump allegedly joked, "Ah, I think I can set him up with somebody," the report said, according to "two people briefed on the meeting."
White House spokeswoman Sarah Huckabee Sanders told Politico that Trump has developed "strong relationships" with "America's closest allies," which allow for "candid conversations."
Incidentally, Trump's bit about fixing PM Modi with someone is not the first joke he has made at his expense. According to a report from The Post earlier this year, Trump often affects an Indian accent and imitates the prime minister.
Despite the jokes and friction on trade tariffs, India-US ties have been strong and PM Modi and US President Donald Trump seems to share a great rapport. PM Modi has invited Trump to be the chief guest at India's Republic Day military parade on Jan. 26 - but there is no word yet whether the US president will accept.