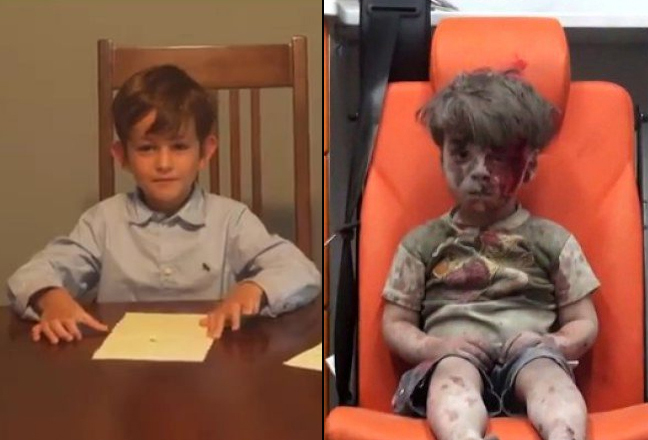 A few months ago, a photo of a 5-year-old Syrian boy surfaced on the internet that questioned our faith in humanity. In a direly wounded state, Omran Daqneesh brought tears to many eyes and anger in others.
Now, a heartfelt gesture by a 6-year-old towards Omran appears to be doing the damage control and restore our faith in kindness.
The dreadful sight of the kid, who was injured in an airstike in Aleppo, prompted a New York boy Alex to request the US President Barack Obama to bring Omran to live with his family in New York.
The White House recently released the letter and a short video in which Alex can be seen reading out his request to president Obama. The video went on to win hearts all around and has garnered upto 7 millions views till now.
The Internet has been hailing the six-year-old as a bright example of humanity since then as even at such a small age, he was able to think about another human being.
Here's the full text of the letter Alex wrote to Barack Obama:
"Dear President Obama,
Remember the boy who was picked up by the ambulance in Syria? Can you please go get him and bring him to (my home)? Park in the driveway or on the street and we will be waiting for you guys with flags, flowers, and balloons. We will give him a family and he will be our brother. Catherine, my little sister, will be collecting butterflies and fireflies for him. In my school, I have a friend from Syria, Omar, and I will introduce him to Omar. We can all play together. We can invite him to birthday parties and he will teach us another language. We can teach him English too, just like my friend Aoto from Japan.
Please tell him that his brother will be Alex who is a very kind boy, just like him. Since he won't bring toys and doesn't have toys Catherine will share her big blue stripy white bunny. And I will share my bike and I will teach him how to ride it. I will teach him additions and subtractions in math. And he (can) smell Catherine's lip gloss penguin which is green. She doesn't let anyone touch it.
Thank you very much! I can't wait for you to come!
Alex
6 years old"
President Obama couldn't refrain from appreciating the large-heartedness of the small boy. He took to the Facebook page of White House to write:
"Those are the words of a six-year-old boy — a young child who has not learned to be cynical or suspicious or fearful of other people because of where they come from, how they look, or how they pray.
We should all be more like Alex. Imagine what the world would look like if we were. Imagine the suffering we could ease and the lives we could save."
He even read from Alex's letter during his address at the Leaders Summit on Refugees that took place alongside the U.N. General Assembly.