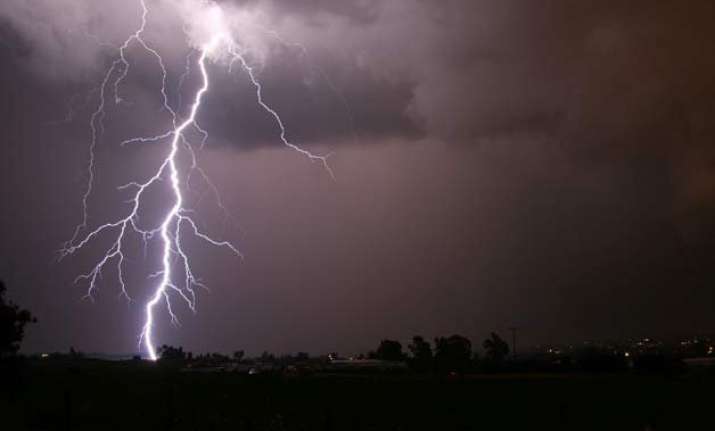 New Delhi: The northern part of India will suffer another spell of severe storms and hailstorms this week between March 28 and April 2.
Conditions in these areas which are known for its food production that covers 1/4th of the country are worsening the impact of recent hailstorms that have devastated 16% of winter-sown crops, according revised estimates.
Golf ball-size hail may fall over the states of Punjab, Haryana, Chandigarh, Delhi, Uttarakhand, Rajasthan and western Uttar Pradesh on March 29 and 30. According to the MeT department forecast a windy system that typically sets off from the Mediterranean — is building up over Afghanistan and is headed for north India.
 
It is also likely to trigger a cyclonic pattern over south Rajasthan and Gujarat, drenching these states in rain till April 2, while storms rising from the Andaman Sea and Bay of Bengal could bring thunderstorms and squalls to parts of Bihar, Odisha, Jharkhand, Assam and Meghalaya. Several weather glitches, in fact, are set to fuse beginning Saturday.
Hailstorms in February and March crushed crops in 10 million hectares of a total of 61 million hectares sown this winter, the agriculture ministry said on Thursday.
The freak weather, coupled with a partial drought last summer, could see foodgrain output drop by 3.2% to 257.07 million tonnes this year, compared to 265.57 million tonnes last year, according to the ministry. Pulses are expected to come down 6-8%.
Damage to crops could stoke food prices. Consumer prices rose 5.37% last month from a year earlier, according to government data, up from January's 5.19%.
Hailstorms have impacted 1.7 million wheat hectares in Rajasthan, the worst-hit state so far, the ministry said. UP is second with losses in 2.6 million hectares, followed by Haryana (1.8 million hectares).
"Once the rain intensity reduces on March 31, the wet weather will spill over into April with light rain observed on April 1-2 in the plains of north India," private forecaster Skymet said.