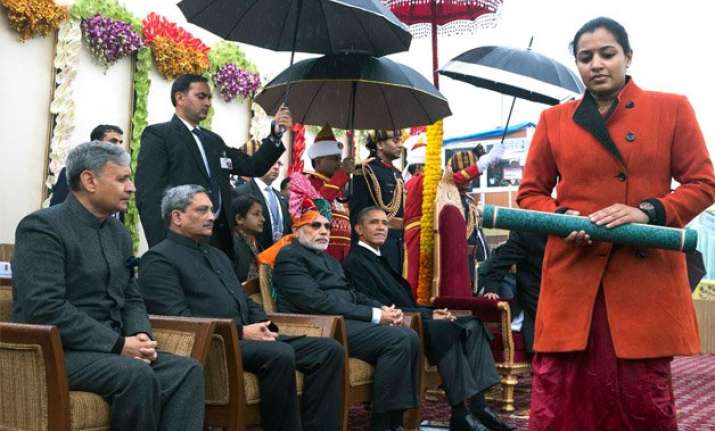 New Delhi: US Security agencies and Indian Military of Defence, in anticipation of terror threats had ensured seven layer security for the Obamas as they joined in the Republic Day celebration. The US President's VVIP enclosure was well protected from the bullets, but was not weather proof.
Umbrellas were the only cover for President Pranab Mukherjee, President Obama, Prime Minister Narendra Modi and others seated in a special glass enclosure.
The moment Obama arrived in his 'Beast', he was helped into an overcoat by his aides. He then walked to the VVIP glass enclosure, holding an umbrella.
While US First Lady Michelle Obama held her own umbrella, security personnel held PM Modi and President Obama's umbrella for them.
President Pranab Mukherjee was given a spot under a special canopy.
The Defense Ministry, responsible for organizing the parade was criticized for not making arrangements in-advance against situation like this. But officials justified their stand by saying that "the VVIP enclosure is usually not under a shelter so that the guests can have an uninterrupted view of the fly-past."
But dignitaries were still under comfortable terms as compared to around 1.25 lakh people who were then in Rajpath to witness the ceremonies. Owing to heavy security, they could not bring umbrellas along with them, despite MeT department forewarning of inclement weather.
The drizzle continued for most part of the parade.