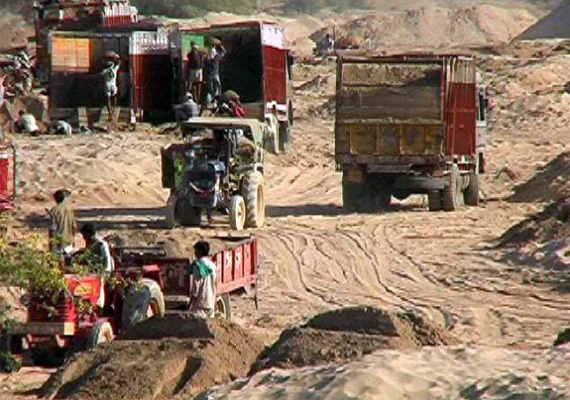 Panna (MP), Mar 10: Barely two days after a young IPS officer was killed allegedly by the mining mafia in Madhya Pradesh, a police team was today fired upon by some men suspected to be involved in illegal sand mining in Panna district.

Police said that according to preliminary reports the team escaped unhurt.

The firing took place when the team led by Sub Divisional Officer of Police J S Markam had gone to Ajaygarh, 40 km from here, this afternoon after it received reports of illegal sand mining in that area, it said.

The miners at the spot opened fire, police said, adding that additional police reinforcements were rushed from the district headquarters.

In a horrific incident that has sparked outrage, 30-year-old IPS officer Narendra Kumar Singh was crushed under a tractor-trolley driven by a member allegedly belonging to the mining mafia on Thursday while trying to stop the vehicle carrying illegally quarried stones in Morena district in MP.

Leader of Opposition in MP Assembly Ajay Singh charged the BJP government in the state with giving protection to mining and liquor mafia.

"Illegal mining is at its peak in many districts in Madhya Pradesh at present. There is no doubt that illegal mining and liquor mafia cannot flourish without the protection of the state government," said Singh, a Congress leader, after visiting the spot where Kumar was crushed to death.

In another incident on the day when Kumar was killed, another young IPS officer and his team were attacked allegedly by liquor barons, including supporters of former BJP MLA Narendra Singh, in Bhind district when he tried to check illegal sale of liquor.

The incident occured when some liquor shops located on the Etawah and Lahar Road were selling liquor illegally despite the administration declaring a 'dry day' on the occasion of Holi, police said.

When this was brought to the notice of IPS officer Jaidevan, posted as Additional Superintendent of Police (ASP) in Bhind, he immediately rushed to the spot along with the police force and questioned them, police sources said.

However, members belonging to the liquor mafia attacked them with lathis and by pelting stones forcing police to retreat from the spot, police said, adding that no one was injured in the incident.