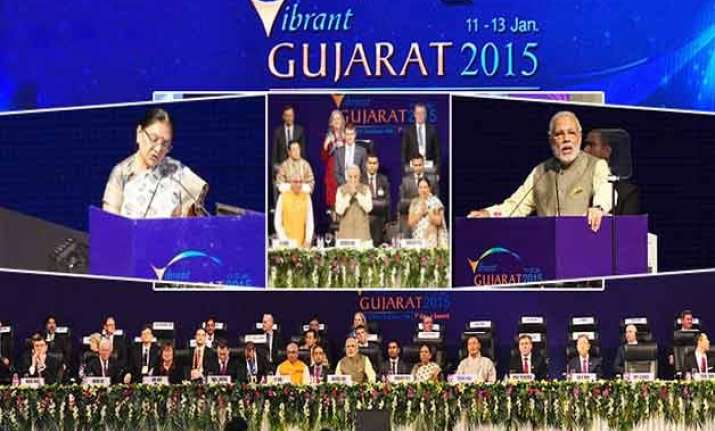 Gandhinagar: Gujarat Government has spent Rs 42.56 crore in the last two financial years in organising Vibrant Gujarat Summit, the state Legislative Assembly was told yesterday.
The details regarding the expenses for financial years 2013-14 and 2014-15 (as on January 20, 2015) were sought by Congress MLA Shailesh Parmar during the question hour.
Vibrant Gujarat is a biennial investors' summit held by the state government.
In her written reply, Chief Minister Anandi Patel, who also holds the portfolio of Industries and Mines, stated that as on January 20 the government had spent Rs 42.56 crore during the two financial years.
The seventh edition of the Vibrant Gujarat Summit was organised between January 11 and January 13 this year at Mahatma Mandir here.
Though the previous edition of the conclave was held in January 2013 (before the beginning of FY14), the reply stated Rs 56.99 lakh out of the total expenses incurred was spent during fiscal 2013-14, while Rs 41.99 crore in fiscal 2014-15 (till January 20).
Replying to a sub-question on how much money was spent towards lodging, boarding and transportation of foreign delegates, Patel stated the accounts are still being prepared as on January 2015.
As per the break-up, a total of Rs 7.13 crore was spent on decoration, temporary furniture, putting road signs and other temporary structures.
The reply stated Rs 1.6 crore was spent on transportation and other amenities for participants, Rs 2.14 crore for the manpower, Rs 7.64 crore for making creative literature, Rs 10.68 crore for conducting pre-event road shows and Rs 1.13 crore on organising seminars and panel discussions.