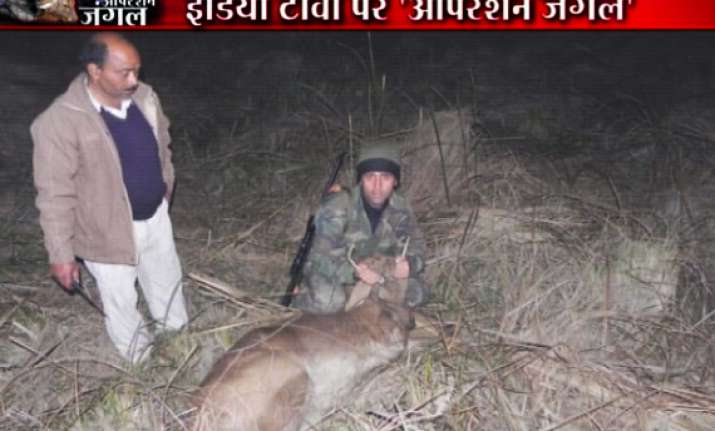 Khurja, UP, Jan 8: The Meerut Divisional Conservator of Forests today reached Bulandshahar for a preliminary investigation in the findings of India TV  which exposed national shooter Mairaj Ahmed Khan killing sambhars with his rifle and shot gun and inviting foreign nationals for hunting.
 
Forest department teams raided several places in Gulavati and Khurja to collect evidences of this illegal hunting racket.
 
BJP MP Menaka Gandhi had told India TV on Saturday night in its primetime programme that the CBI should take up the whole matter, as such illegal hunting would not have been possible without the connivance of local forest officials.
 
National shooter Mairaj Ahmed Khan is presently in Doha, Qatar and taking part in Asian Shooting Championships.

He has refused to comment on the India TV expose.
 
India TV in its primetime telecast on Saturday night exposed India's ace gold medalist shooter Mairaj Ahmed Khan using a sophisticated gun to shoot sambhars in the forests of Khurja near Bulandshahar, UP.

The nine photographs dated February 6, 2011 show Mairaj Ahmed Khan sitting with his gun in front of the dead sambhars alongwith his associates.

BJP MP and chief patron of People for Animals Menaka Gandhi speaking to India TV demanded a CBI probe into the matter.

Menaka Gandhi alleged that the shooter had been inviting foreign nationals to participate in hunting, and in lieu of that he used to get payments in foreign exchange.

This is also a foreign exchange law violation, she added.

Menaka Gandhi alleged that this could not have been possible without the connivance of the local DFO (District Forest Officer) and rangers.

India TV had telecasted nine photographers of Mairaj Ahmed Khan posing with a shotgun with the dead sambhar.

Mairaj Ahmed Khan is presently in Doha, Qatar to take part in the  12th Asian Shooting Championship.

Mairaj Ahmed Khan won the bronze medal in the Commonwealth Games in Delhi.

He also won a gold medal in the Commonwealth Shooting Championship.  

He is considered one of India's foremost shooters.

An official of the National Rifle Association of India told India TV that the matter would be probed, and if found true, action would be taken against the shooter.

Ambika Shukla of People For Animals said, her organisation will file a complaint in court against the shooter.