Follow us on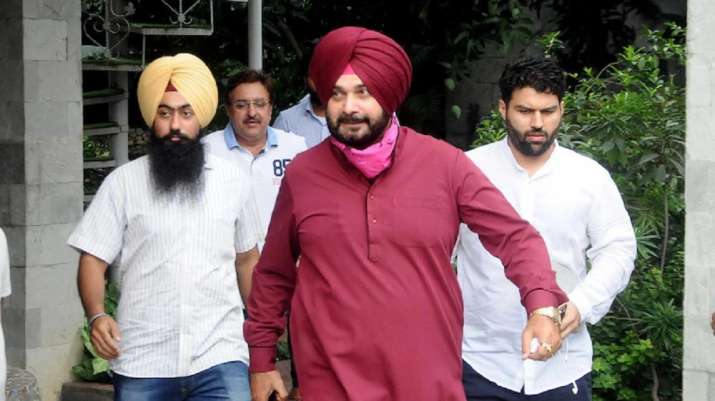 Punjab Congress leader Navjot Singh Sidhu, who resigned as Punjab unit chief a few days ago, on Thursday met Congress general secretary KC Venugopal and Punjab Incharge Harish Rawat at the AICC office in Delhi and discussed organisational matters pertaining to party affairs in state.
Speaking to the media after the meeting, Navjot Singh Sidhu said that he fully trusts Priyanka Gandhi Vadra. He said whatever decision Rahul and Priyanka will take, would be acceptable to him.
"I expressed my concerns regarding Punjab and Punjab Congress to party high-command. I've full faith in Congress president, Priyanka ji & Rahul ji. Whatever decision they'll take, it'll for the betterment of Congress & Punjab. I'll follow their directions," Sidhu said.
A big decision pertaining to organisational matters is expected to be taken by the high command likely tomorrow and Sidhu will continue to work as Punjab Congress chief for now, said Harish Rawat, while speaking to reporters. 
Ahead of his meeting with Sidhu, Harish Rawat said, "Navjot Singh Sidhu and Charanjit Channi have spoken on some issues, a solution will emerge... there are some things that take time."
Sources previously said Sidhu may have been given a warning today to rectify his behaviour and not to indulge in anything that can put the party in an embarrassing situation. He will be asked to toe the party line and not give any statement which is against it.
Earlier, Harish Rawat in a tweet said, "Navjot Singh Sidhu, President Punjab Congress will be meeting me and KC Venugopal for discussion on certain organisational matters pertaining to Punjab Pradesh Congress Committee at Venugopal's office (in Delhi) on October 14."
After the resignation as the president of the Punjab Pradesh Congress Committee (PPCC), Sidhu will be having his first official meeting with the Congress central leadership.
Sidhu had announced his resignation as PPCC chief on Twitter on September 28.
According to sources in the party, the high command is not happy with the resignation of Sidhu and no such meeting with central leadership happened after his resignation.
Sidhu, after his resignation, had said he will always stand by party leaders Rahul Gandhi and Priyanka Gandhi.
"Post or No Post will stand by Rahul Gandhi and Priyanka Gandhi! Let all negative forces try to defeat me, but with every ounce of positive energy will make Punjab win, Punjabiyat (Universal Brotherhood) win and every Punjabi win," he has said in a tweet.
ALSO READ:​ Punjab now witnesses Congress vs Congress duel over Centre's BSF move