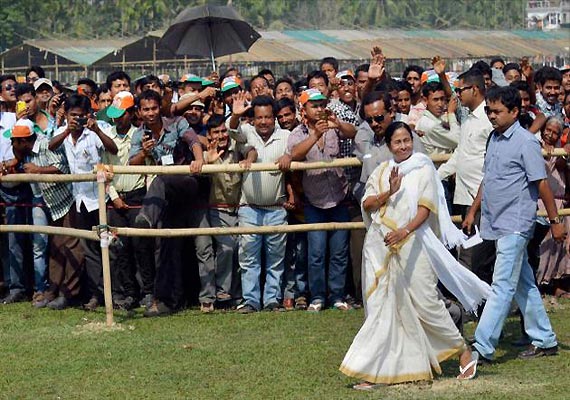 Kolkata: A day after she had a narrow escape from a fire, West Bengal Chief Minister Mamata Banerjee Friday alleged a concerted effort to eliminate her, even as explosives were recovered a few kilometres away from her rally venue.
The Election Commission said it was looking into the Trinamool Congress complaint that the poll panel had failed to ensure her safety and security.
Addressing an election meeting in Nalhati of Birbhum district, Banerjee rubbished the theory that Thursday's fire in her hotel room in Malda district was caused by a short circuit.
"There is a conspiracy. Planning is on. After I am killed, it would be passed of as a short circuit... as an accidental death," she said.
Before heading to Nalhati, Banerjee recounted her horrific experience, saying "I thought I would die" of suffocation.
"I could not see anything as there was smoke all round. Luckily the room was not bolted and I ran out covering myself with a blanket. I inhaled a lot of the gas and thought I will die of suffocation," said Banerjee who was in the washroom when she heard a loud sound and came out to find the room engulfed in smoke.
Banerjee, also the Trinamool Congress chief, was staying in a private hotel in Malda town after campaigning when the AC in her room caught fire, throwing out thick smoke and soot.
"The whole night I had breathing trouble and had to use oxygen cylinder. Though I am not well, I cannot cancel my programmes," said Banerjee.