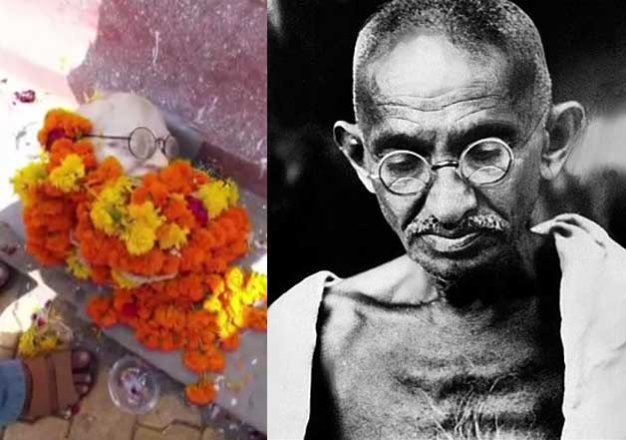 New Delhi: Today on the occasion of Gandhi Jayanti when India is commemorating the 146th birth anniversary of the father of the nation, an unfortunate incident happened in Gujarat came into limelight.
A statue of Mahatma Gandhi, situated in the Morbi district, got broken up when people were offering the garlands on it. The head part of the sculpture got detached from the body and fell on the ground, giving an instant shocker to the people present there.
As per the initial reports, Police said that the statue got broken up due to the heavy weight of the garlands.
This disrespectful incident happened at the home turf (Gujarat) of Mahatma Gandhi on his birth anniversary has raised a number of eyebrows.
However, there is no involvement of anti-social elements is suspected as of now but the material used in the manufacturing of the statue is certainly in question. Apparently, it is the manufacturer or the dealer who has ignored the quality of the statue and emphasized on the profit making.
Mahatma Gandhi is celebrated as the Father of the Nation among the netizens in India. His contribution in country's freedom struggle against the British is unmatchable.
Employing nonviolent civil disobedience, Gandhi led India to independence and inspired movements for civil rights and freedom across the world.
His life rules are even evident today with likes of Narendra Modi, the leader of world's largest democracy, and Barack Obama, President of United States, following the Gandhian path of living.
However, with extreme surge in devils like corruption & violence, Gandhi's principles are losing its place. Breaking down of his statue today denotes the inclusion of 'corruption' factor, which is totally against the Mahatma Gandhi's preaching.
Watch the video here: