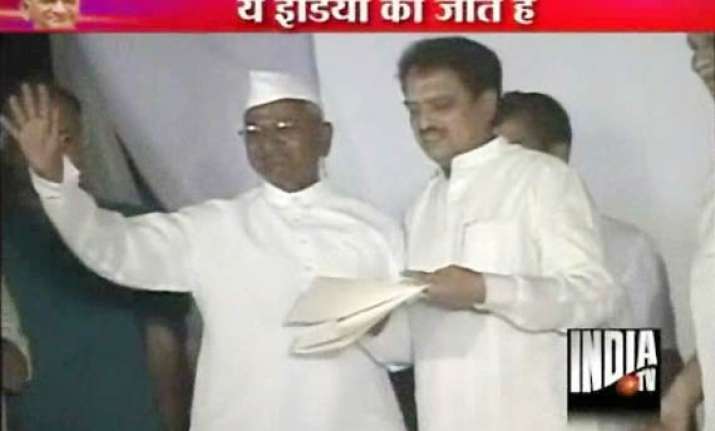 New Delhi, Aug 27: Union Minister and former Maharashtra chief minister Vilasrao Deshmukh on Saturday conveyed the "sense of the house", including in-principle agreement on the three key demands of Anna Hazare on the Lokpal bill, to the fasting activist at Ramlila Maidan.

Both houses of Parliament, after daylong discussions, adopted the sense of the house accepting the three demands of civil society, namely a citizens' charter, creation of Lok Ayuktas in the states and inclusion of lower bureaucracy in Lokpal's ambit.

But the soldier-turned-activist warned that only half the battle had been won in the fight for a corruption free India.

"We have won only half the battle, we are yet to win the full battle," he said, addressing the gathering after cabinet minister Vilasrao Deshmukh gave him a letter from Prime Minister Manmohan Singh.

Hazare credited the "victory" to everyone who took part in the campaign for an effective Lokpal bill all over the country since he began his fast Aug 16 after police detained him here.

"The students, the youths, the housewives, it is their victory," he thundered, drawing a huge round of applause. "The people who remained here (Ramlila ground), it is their victory."

The crowds went wild with joy when he said: "It is your victory."

Hazare said he would end his fast at 10am "in your presence ... and with your permission".

Thousands of hands went up when he asked loudly: "Raise your hands if I have your permission to break the fast."

The anti-corruption crusader asked people to celebrate Sunday but said this should be done peacefully.