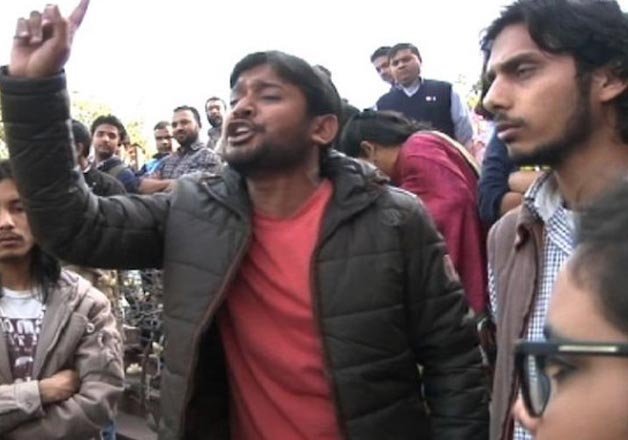 New Delhi: A security guard at JNU campus and a policeman, said to be eyewitnesses who have also recorded their statements in the sedition case, have been purportedly seen in a sting video saying that JNUSU president Kanhaiya Kumar did not raise any slogan.
Earlier, a similar sting operation was conducted on two of the three lawyers who allegedly assaulted journalists, JNU students and teachers at Patiala House court, and were later arrested earlier this week.
In the latest sting  by a TV channel, the security guard who identifies himself as Amarjeet Kumar could be seen claiming that he was present at the February 9 event on the JNU campus.
Asked about Kanhaiya, he said the student leader delivered a speech at Ganga dhaba after the end of a march that started from Sabarmati dhaba. He also claimed that he had not seen Kanhaiya raising any slogan.
The guard, in the sting video, could also be seen saying that around 10-15 outsiders were present in the event, which was held despite being denied permission by JNU authorities.  The other person who had identified himself as Delhi Police head constable Rambir could be seen saying that he was present at the event in plain clothes.
He was also seen saying that the JNUSU President was present in the crowd but he did not raise any slogans. In the statement attached with the FIR in the case, registered on the basis of a video footage obtained from the Hindi newschannel, police had mentioned names of Rambir and two other constables who were present at the spot in plain clothes and had witnessed the event.
The head constable, in the sting operation video, could also be seen claiming that the protest against the hanging of Parliament attack convict Afzal Guru was organised in the past two years also but nothing of this sort had happened.
Asked why the police did not stop the event, he claimed that there was no police present inside the campus as it needs the permission of the Vice Chancellor. However, he had informed his seniors about the incident.
"Kanhaiya was there in the crowd but I did not see him raise any slogan. Khalid was clearly raising slogans and that is also evident from what is being shown on TV," the policeman is seen saying in the sting video.
He also said he had not shot any video of the event fearing an attack. Both Amarjeet Kumar and Rambir are learnt to have recorded their statements with the investigators.