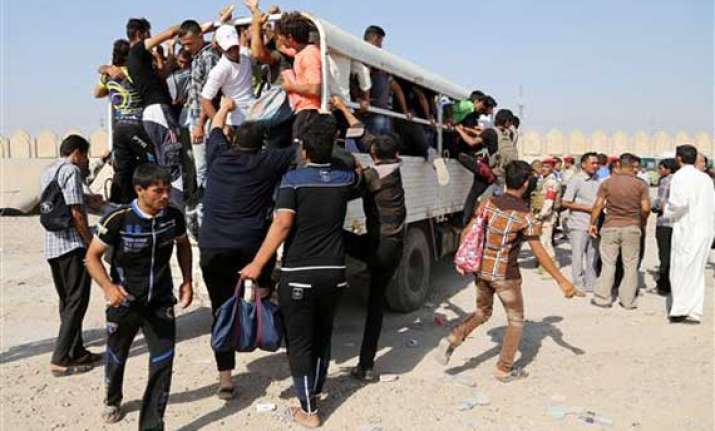 Hoshiarpur (Punjab): The brother of a Punjabi youth taken hostage in Iraq by Sunni insurgents says that youths from northern India were sold to agents in the strife-torn country for just $400.
Paramjit Singh, younger brother of Kamaljit Singh, a youth from Hoshiarpur who has been abducted by the insurgents, said scores of youths from the region could have been stranded or held hostage in Iraq.
Paramjit Singh, who returned from Iraq about eight months ago and could not succeed in going back, said conflicting reports about the whereabouts of the Indian hostages were causing concern to his family and families of other youths from Punjab who are still missing.
Kamaljit Singh and the others went missing from Mosul town June 11.
"We spoke to him last on June 15. After that, there has been no communication from there. An official of the construction company called up last night to say the company was not able to do much in the present circumstances and it had no information on the abducted youth," Paramjit Singh told IANS here Friday.
His brother went to Iraq over 18 months ago. He was working with the Tehrak Noor Al Huda construction company there.
"I spoke to company officials yesterday also. They said they had no idea about the hostages. One Indian hostage managed to sneak a mobile phone and called up a Bangaldeshi national who was released by the insurgents. He told Hasan (Bangladeshi) that they (Indians) would be killed."
Of the 91 men taken hostage earlier, 42 Indians were still with the militants.
"The information we are getting here is that the Muslim men were separated from the others and released. The whereabouts of the rest are not known," he pointed out as his inconsolable mother said she "wanted her son Kamaljit back at all cost".
"We landed in Baghdad and were sold by our agent to another agent there for 400 dollars. We were forced to work in a supermarket from 6 a.m. till 2 a.m. at night.
"I later shifted to the construction company where the work and facilities were better," said Paramjit Singh, whose family belongs to Chhauni Kalan village, five kilometers from here.