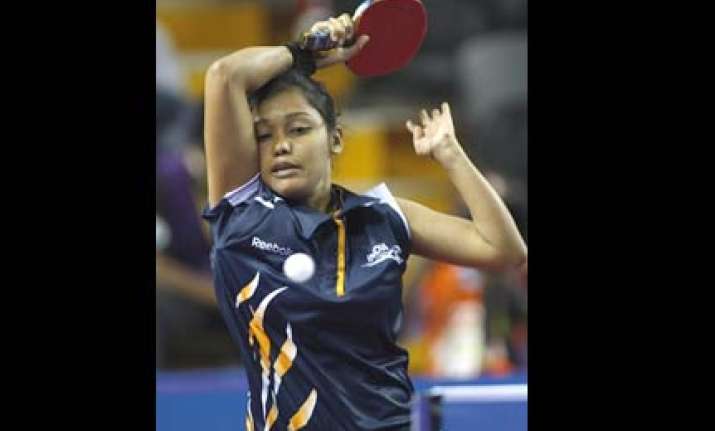 New Delhi, Oct 8 : Indian women team had to be content with a silver medal after going down 0-3 to top seed singapore in the final, while their men counterparts lost the semifinal to England to crash out of the Commonwealth Games table tennis competition here today.
Nothing went right for the defending champions, including Olympian Achanta Sharath Kamal, in the final-four clash, which they lost 1-3 at the Yamuna Sports Complex.
 In the women's summit clash, fourth seed India put up a spirited display but that was not enough to overcome the world champions.
 Bengal girl Mouma Das tried hard but went down 1-3 to Tianwei Feng and then former national champion Kumaresan Shamini lost the second tie 0-3 to Yuegu Wang.
 Reigning national champion Poulomi Ghatak, however, came up with a determined performance Jiawei Li but her effort was not enough.
 Li beat Poulomi 3-1 to clinch the issue and lay hands on the yellow metal.
"Singapore is a very strong team. They were the top seed and if we see realistically, there is a difference of standard. But yes, we did put up good fight. It will take some years to come up to their standard," said India coach Bhawani Mukherjee.
Earlier, Indian men started the semifinal on a winning note after Sharath thrashed Liam Pitchford 3-0 in the opening tie, in front of a cheerful gathering.
But A Amalraj then squandered an early lead and went down 2-3 to Paul Drinkhall 2-3 as England drew parity, before Andrew Baggaley swelled the lead by spanking an off-colour Subhajit Saha 0-3.
India's hopes then rested on Sharath, but the world number 40 committed several unforced errors in the fourth tie to lose the match 1-3 to Drinkhall.
Both Sharath and India's foreign coach Massimo Constantini said that England deserved to be in the summit clash but felt the umpire's two fault-calls at crucial junctures in the second tie proved costly for the hosts.
"England really played well. The referee called two faults in 0-5 and 10-10 situations during the Amalraj-Drinkhall match, which later proved crucial," Sharath said after the semifinal.
"And after Amalraj lost the match, I was probably not that confident in the fourth tie," Sharath added.
"Now we have to start from the scratch again," Constantini told reporters.
 Indian men will now play Nigeria for the bronze.
In the summit clash tomorrow, England will take on Singapore, who thrashed Nigeria 3-0 in the other semifinal of men's team event. PTI