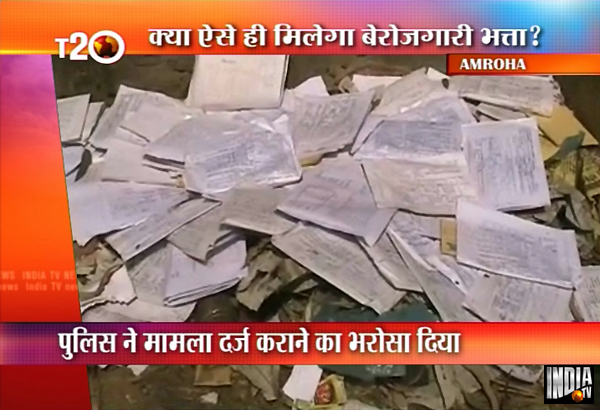 J P Nagar (Amroha), Mar 25: Hundreds of UP government's  filled up unemployment allowance applications were found  thrown inside a trash bin outside the local Employment Exchange fuelling rage among the applicants. They shouted slogans outside the employment exchange on Saturday.
The Akhilesh Yadav government had promised to disburse Rs 1,000 per month to the unemployed youths as allowance, and lakhs of youths had  submitted applications after standing in queues for long hours.
Usha Arya, the district employment officer, has a different take on this issue.
She says: "We had closed down the office a day ago, but when we returned the next morning, we found the fibre sheet put on the window removed and  hundreds of applications lying outside. We have reported the matter to the police."
Local youths say, this appears to be part of a conspiracy by officials to deprive them of their allowance. There was no point in  outsiders breaking in and throwing the applications in a dustbin, unless  it was in  connivance  with the corrupt officials.