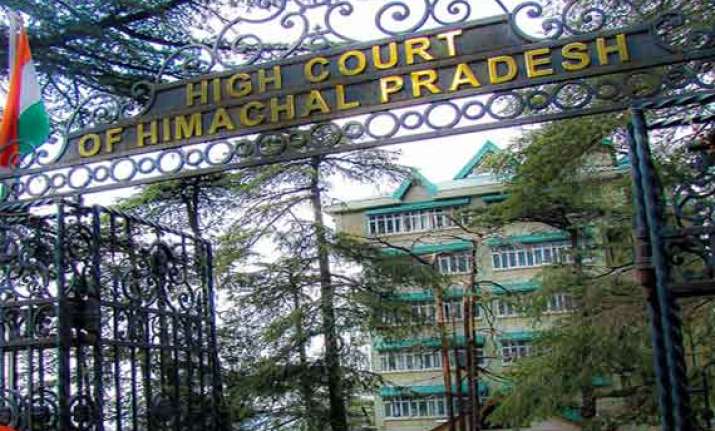 Shimla: The Himachal Pradesh High Court yesterday issued notices to the state government and Shimla Municipal Corporation on "mismanagement of traffic and unauthorized parking of vehicles" here and directed them to come out with a long-term plan to regulate traffic in the city, other district headquarters and tourist places.
A division bench, comprising Chief Justice Mansoor Ahmad Mir and Justice Tarlok Singh Chauhan, passed the orders on a petition filed by one Dharam Pal Thakur of Panthaghati, Shimla, treating it as a Public Interest Litigation.
The Court directed the state government to file a status report on the implementation of the Shimla Road Users and Pedestrians (Public Safety and Convenience) Act, 2007 and also to furnish the list of permits granted by the authorities for plying of vehicles on sealed and restricted roads.
The Court also directed the authorities to furnish an affidavit stating whether CCTV cameras have been deployed and fixed at entry points and what mechanism is in place to check and deter unnecessary vehicles on sealed and restricted roads, whether traffic police are manning the entry points to these roads and proper signals have been fixed, report on proper usage of earmarked parking places and also on steps taken to prevent unauthorized parking.
The petition alleged the authorities have failed to diligently perform their duties, leading to chaos and haphazardness, which has made day-to-day movement of residents and tourists very difficult.
It alleged the authorities are lax in implementation of Shimla Road Users Act, traffic police deployment on sealed and restricted roads is insufficient, parking on such roads is not permitted but these have virtually become parking lots for the vehicles of the high and mighty.
Government vehicles are also running on sealed and restricted roads without permits, private ambulances with no patients can be seen plying on these roads without check and HRTC taxis are also plying on these routes with dangerous speed, said the petition.  
The petition alleged neither is there any plan with the government nor any space and infrastructure to deal with increasing number of vehicles in Shimla city as there are only 32 notified taxi stands and 13 MC paid parking with a total capacity of only 480 vehicles.
The Court has also directed the government to report steps to prevent unauthorized parking in around Indira Gandhi Medical College, Kamla Nehru Hospital and Deen Dayal Upadhyay Hospital and also on the policy prevalent for manning HRTC taxis on sealed and restricted roads.
The Court also directed the municipal corporation to file a status report indicating what steps it has taken till today and how the civic body is managing parking of vehicles.
The Court directed the respondents to file the replies before next hearing on August 19.