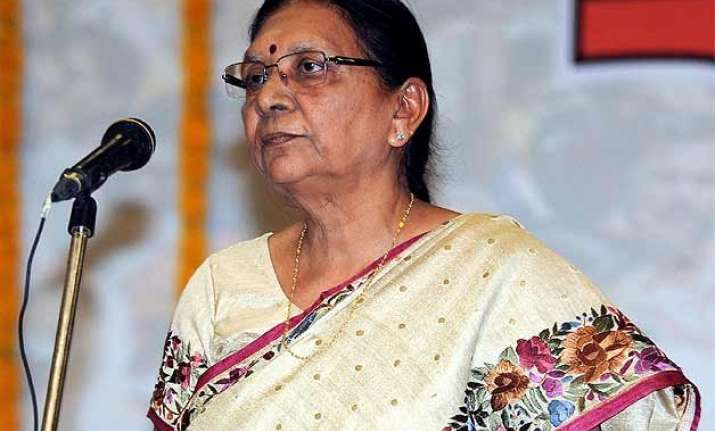 Rajkot: Gujarat Chief Minister Anandiben Patel today dedicated the Narmada Canal-based pipeline project to the people of Saurashtra and Kutch region at Dhanki village in Surendranagar district.
The 361-km long 'Swarnim Gujarat Bulk Pipeline Project' has been termed as the biggest water grid project of the state which was launched by Narendra Modi in 2002 when he was the Gujarat CM.
Under this project, the Gujarat government has built three large pumping stations at Dhanki village of Lakhtar taluka on the branch canal of Naramda canal network. Three bulk pipelines have been laid from Dhanki to carry water to different areas of Saurashtra and Kutch, as per an official release.
Water will be pumped from pumping stations in Dhanki and sent to various parched villages through pipeline networks.  The three pipelines include one from Dhanki to Maliya which is 120.50 km, other from Dhanki to Hadala (Rajkot) which is 146.10 km, while the third pipeline is from Dhanki to Navda, which is 74.50 km.
While dedicating the project, completed at a cost of Rs 2,500 crore, Gujarat CM Anandiben Patel said, "It's a historic day for me to dedicate the project to the people of this region, because I had also experienced the hardships of fetching water from well. Thus I knew that women of this region were also facing similar problems due to scarcity of water".
The project is aimed at providing 165 crore litres of potable water to about 1.75 crore people in 5,587 villages and 116 towns of Saurashtra and Kutch.
Pumping stations at Dhanki have the capacity to pump around 165 crore water litres daily, an official press release stated.
In her speech today, Patel thanked Modi for envisioning such a project."This is our prime minister's dream project. He (Modi) had worked tirelessly to solve the water scarcity of this region.
He also fought hard to increase the height of Sardar Sarovar dam and provided us the technology to lay the canals quickly," Patel said.
She also added that this project would permanently solve the water scarcity problem being faced by Saurashtra and Kutch region.
On the occasion, Gujarat Water Supply Minister Vijay Rupani said that the project would stop migration of locals.  "People of Saurashtra and Kutch region were forced to migrate to other regions because of the scarcity of water. At present, 70 per cent dams and reservoirs of this region have gone dry. Scarcity of water has been looming large on the people. Now they will get sufficient water for drinking and irrigation," Rupani said.
He said that the city of Rajkot, which used to get 180 MLD of water from Narmada, would now get 220 MLD of Narmada water, which would help the civic body to supply drinking water daily to city dwellers.