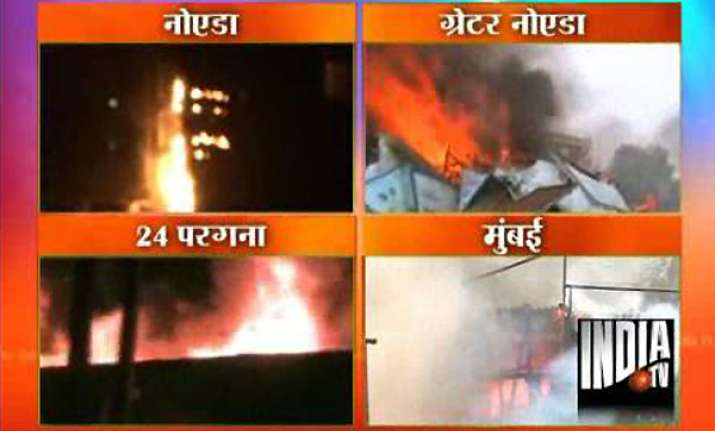 Noida/Kolkata/Mumbai, Feb 3: Four major fire incidents were reported from  Noida, Kolkata and Mumbai on Thursday evening.

In Noida, there was a fire on the topmost 19th floor of Express Tower-2 apartments in Sector 132 which spread to the 18th floor. The fire, due to an electrical short circuit, was soon brought under control after two hours. Nobody was injured.

In Greater Noida, lakhs of rupees worth hoardings and banners were gutted in a fire in the godown of Greater Noida Authority on Thursday evening. The banners and hoardings had been removed in accordance with Election Commission's instructions. The fire was controlled within 3 hours.

In Maheshtala, south 24-Parganas district of West Bengal, adjoining Kolkata, lakhs of rupees worth seized goods were gutted in a Customs godown.The flames spread to a nearby film studio, and fire tenders rushed to control the fire. Another fire incident took place on Chittaranjan Avenue in Kolkata gutting goods inside a paper godown.

In Mumbai's Nagpada Prabhatwadi colony, a fire gutted goods inside a leather and furniture factory. It was doused after hours of efforts by 12 fire tenders.