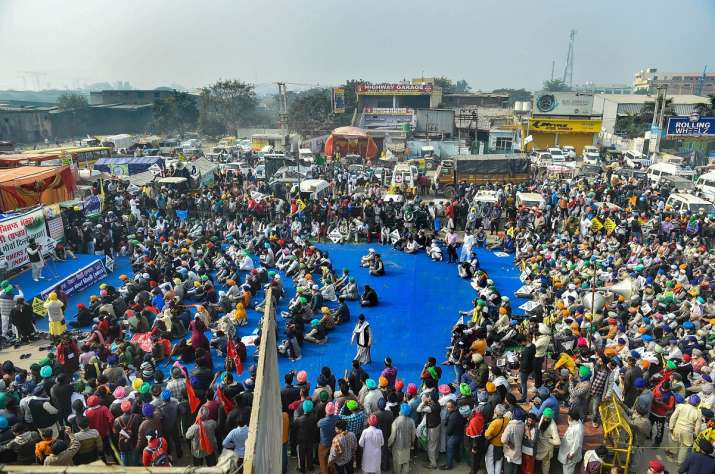 Thousands of farmers protesting against the Centre's new farm laws stayed put on the borders of Delhi with Haryana and Uttar Pradesh, as their fifth round of talks with the government ended in a deadlock. Meanwhile, MoS Agriculture on Sunday said, "the government has said that MSP will continue, can give it in writing too." "I think Congress government (in states) and Opposition are trying to instigate farmers. Nation's farmers are in favour of these laws but some political people are trying to add fuel to the fire," he added. The protests led to the blockade of key routes leading to Delhi, which resulted in long traffic jams. Joining the farmers' agitation, Boxer Vijender Singh today said, "If the government doesn't withdraw the black laws, I'll return my Rajiv Gandhi Khel Ratna Award - the highest sporting honour of the nation."
HIGHLIGHTS:
07:30 pm: Singhu, Auchandi, Piao Maniyari, Mangesh borders are closed. National Highway 44 is closed on both sides. Take alternate routes via Lampur, Safiabad, Saboli, NH8/Bhopra /Apsara borders /Peripheral Expressway: Delhi Traffic Police
07:06 pm: London Police in full force giving protection to Indian High Commission while protestors raise anti-India slogans and some pro-farmer slogans.
07:02 pm: Farmers from Uttarakhand bring a modified tractor-trolley at the Ghazipur border for protesting old farmers. Trolley has got an inverter, AC, beds, mattresses & charging point. "We've prepared this trolley so that our old farmers can take proper rest," says a farmer.
06:32 pm: Rashtriya Loktantrik Party supports the call for 'Bharat Bandh by farmers'. The PM should take back the farm laws. We will take a decision on whether RLP will stay in NDA or not after December 8: Hanuman Beniwal, RLP leader and MP from Rajasthan
5:40 pm: I request the whole world that it is a matter between our farmers and the government. Do not come between them, because both will find a way after discussions. I know that many people want to take benefits from it and are creating problems. They are not thinking of farmers. They may have their own agenda: Sunny Deol, BJP MP
5:20 pm: I appeal to all to participate in 'Bharat Bandh' on 8th December. 250 farmers from Gujarat will be coming to Delhi. There is a need to strengthen this farmers' movement: Farmer leader Baldev Singh at Singhu border
5:10 pm: Congress stands united with farmers & their struggles. We'll wholeheartedly support the Bharat Bandh call given by farmers. All our district units instructed already to have dharnas & demonstrations in support of farmers: Congress leader Randeep Surjewala on 8th Dec Bharat Bandh
4:50 pm: Union Agriculture Minister Narendra Singh Tomar (in file photo) to hold a meeting with MoS Kailash Choudhary and MoS Parshottam Rupala today
04:30 pm: NCP chief Sharad Pawar to meet President Ram Nath Kovind on December 9, over farmers' protests.
04:16 pm: Singhu, Auchandi, Piao Maniyari, Mangesh borders closed & NH 44 is closed on both sides. Take alternate routes via Lampur, Safiabad, Saboli, NH8/Bhopra/Apsara borders /Peripheral expressway. Traffic has been diverted from Mukarba & GTK road. Avoid Outer Ring Road , GTK road, NH 44. Chilla border (both carriageway) is closed for traffic due to farmers protests. Ghazipur border on NH-24 is open for traffic from Delhi to Ghaziabad. The Ghazipur border on NH-24 closed for traffic from Ghaziabad to Delhi due to farmers protest: Delhi Traffic Police
03:59 pm: Around 2.5 quintals of 'pinni' and 'matthi' being prepared by 'Namdhari Sangat' in Ludhiana for the farmers, agitating at Delhi borders. The 'Sangat' will bring it to Delhi tomorrow.
03:30 pm: Indian Tourist Transporters Assn (ITTA) & Delhi Goods Transport Assn call for strike on December 8 in solidarity with farmers' protest in Delhi.
"51 unions decided to support farmers. Farming & transporting are like 2 sons of a father," says Satish Sherawat, president of ITTA.
03:09 pm: Bharatiya Kisan Union Lok Shakti members head to Delhi, in support of the farmers' agitation
The government has proposed another meeting on December 9 with the representatives of protesting farmers and requested them to send back the elderly, women and children to their homes from the protest sites.
The agitating farmers had on Friday announced a 'Bharat bandh' on December 8 and threatened to intensify their agitation and block more roads leading to the national capital if the government did not accept their demands.
As farmers remained unyielding on their demand for scrapping the new farm laws, the police kept the Delhi-Haryana border at Singhu, Tikri, Jharoda Lampur, Auchandi, Safiabad, Piao Maniyari, and Saboli closed for traffic movement. With no breakthrough in sight after several rounds of negotiations and farmers refusing to budge, the protest sites are now resembling a 'pind' (village in Punjabi).
Meanwhile, several opposition parties on Saturday announced support to the 'Bharat Bandh' called on December 8 by farmer unions against the new agri-marketing laws and held protests in various parts of the country to express solidarity with the agitators who have stayed put on Delhi borders for 10 days. "It will be an emphatic Bharat Bandh on December 8," All India Kisan Federation president Prem Singh Bhangu said on Saturday evening after the fifth round of talks between the farmers and the central government failed to break the logjam.