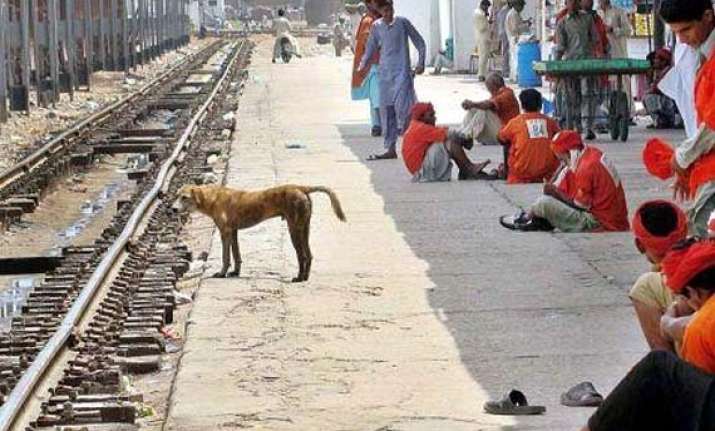 We usually hear human beings sacrificing their lives to save strangers. But a simple act of a dog's sacrifice has left behind a tale to tell.
Late night on 3rd September, a running local between Gummidipoondi-Chennai made its stop at the base around 8.45pm, followed by a herd of berated passengers running to catch up connecting trains/buses.
People were in a hurry as the rain had just stopped and with heavy water logging everywhere they were worried of getting stuck in jams. As some went rushing minding their way through small water puddles, other just preferred walking over it.
Amid the chaos at the station no one was even bothered to pay heed to that dog who restlessly kept barking non-stop. Shoeing it away many passengers tried to move forward, but dog barked enough to scare them away from crossing over the water puddle.
But a group of six men kept moving forward regardless of the barking dog, as they didn't want to get late because of a dog scare, and also didn't want to take a longer route.
Sensing the oncoming fate, the dog itself jumped in front of them landing into that puddle of water, dieing instantly leaving passengers around in shock.
Nobody could understand what just happened; a minute before there was a dog barking frantically and the next moment he was lying dead with a crowd of people around left shocked.
It was then, when one from the crowd noticed a loose cut wire hanging down inside the water. Had those six men put their foot in the water, they would have died of electrocution.
Sensing the dog's sacrifice, people around called authority to help and soon they lifted the dog's body onto a safe and dry place. It was then some people (regular workers on the station) realized that the dog had left behind a litter of 10-day old pups.
Some eyewitnesses informed that Railway Protection Force inspector N Alagar Swamy, later cordoned off the area and ordered his team to rescue those puppies and hand them over to Blue Cross.
Soon after locals heard of the selfless act of bravery by the dog, and as the news spread, Blue Cross volunteers were thronged with huge response for adopting the pups.
A source from Blue Cross later informed, that two of the pups died shortly after being adopted, but the rest of the pups have been doing well.
One can never deny the fact that God's creations have some humanity still left deep inside them. And you don't need to be human to sense it!