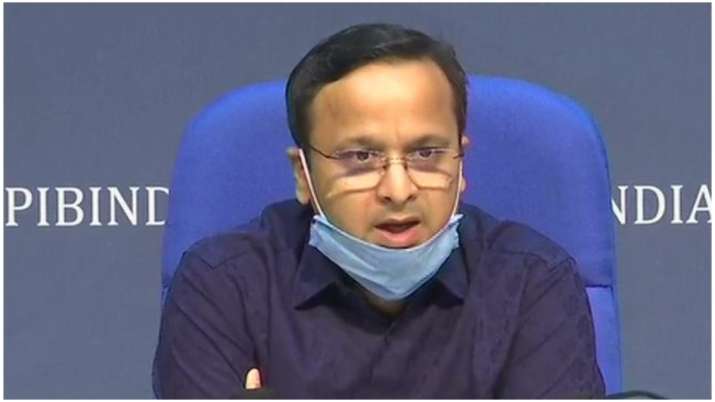 Union Health Ministry on Thursday said that it had spoken with World Health Organisation (WHO) officials over "micro plan" of cluster and outbreak containment was discussed. Lav Agarwal, Joint Secretary of Union Health Ministry told media about the interaction during his daily press conference on Covid-19 outbreak in the country.
"Health Minister & MoS, Health held a video conference yesterday, with health functionaries and field officers of World Health Organisation, in which micro-plan for clusters & outbreak containment of  Covid-19 at district-level was discussed," said Agarwal.
Agarwal provided the latest statistics pertaining to Covid-19 outbreak in the country. He said that the number of positive cases stood at 12,380 and the death toll was at 414.
He added that in past 24 hours, 941 new cases of coronavirus were detected. 1489 patients had recovered so far and the tally includes 183 patient who were cured in last 24 hours.
Punya Salila Srivastatva, Joint Secretary of Ministry of Home Affairs was present in the press conference as well. Clearing any doubts over resumption of public transport, she said that all such transport has been stopped till May 3. She made it clear that all buses, trains and air services were to remain suspended till the lockdown is lifted.
She clarified further that even cab aggregators, cycle-rickshaw owners are to stop serving customers.
The MHA also said some rules such as wearing face masks, practising social distancing and no gathering of five or more persons should be strictly enforced at public places in order to ensure that the lockdown clamped to contain the spread of coronavirus is implemented effectively.
(With PTI inputs)
ALSO READ | Delhi pizza delivery boy tests coronavirus positive: What we know so far
ALSO READ | Lockdown not only solution, need to do more coronavirus testing: Rahul Gandhi
WATCH | Pizza delivery boy in Delhi tests COVID-19 positive, 72 people placed under quarantine