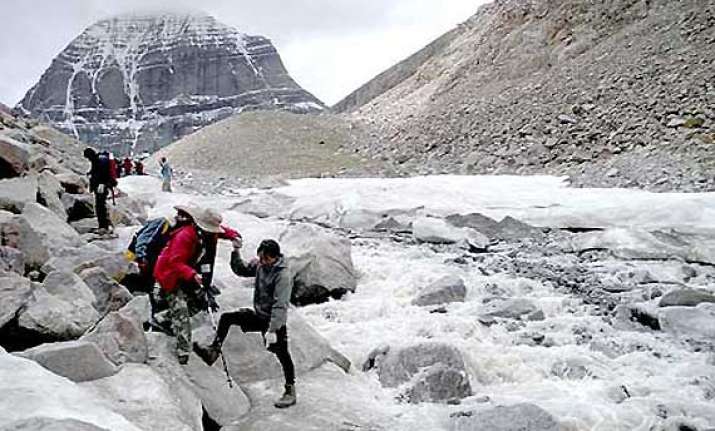 Kathmandu, Jun 7: Hundreds of Indian pilgrims have been stranded in Nepal on their way to Kailash-Mansarovar in Tibet as Chinese authorities stopped them at the border entry point saying that their vehicles did not have route permit. 
Around 700-800 Indian pilgrims, who were on their way to Tibet to pay a visit to Kailash-Mansarovar, a famous Hindu and Buddhist pilgrimage site, have been stranded at Tatopani area around 125 km east of Kathmandu after Chinese officials stopped them at the border, Nepalese officials said.  
"We have got the information that hundreds of Indian tourists coming to Nepal on their way to Mansarovar have been stopped at the Tibetan border by the Chinese authorities," Sudhir Shah, chief of Immigration Department here said.  
According to Shah there were some 700-800 Indian visitors stranded at Tatopani border point and most of them have now started to return to Kathmandu.
The Indian pilgrims have visa, but the Chinese authorities stopped them an the border entry point saying that they don't have route permit for their vehicles.
Most of the travel agencies operating from India don't know about the route permit required at the border entry point, Shah said.
From the Nepalese side there was no problem for the Indian pilgrims to visit Mansarovar, he added.  
When contacted Indian Embassy officials said that they were looking into the issue.
Travel, trade people and hoteliers dealing with the Indian tourists here said that the Chinese have actually restricted the entry of tourists recently as a precautionary measure against the possible infiltration by pro-Dalai Lama Tibetan activists.
Every year many Indians, mostly elderly people, come for the Mansarovar pilgrimage tour via Kathmandu which takes about 2-3 weeks and each individual has to pay around Rs 70,000 for the package including air tickets.