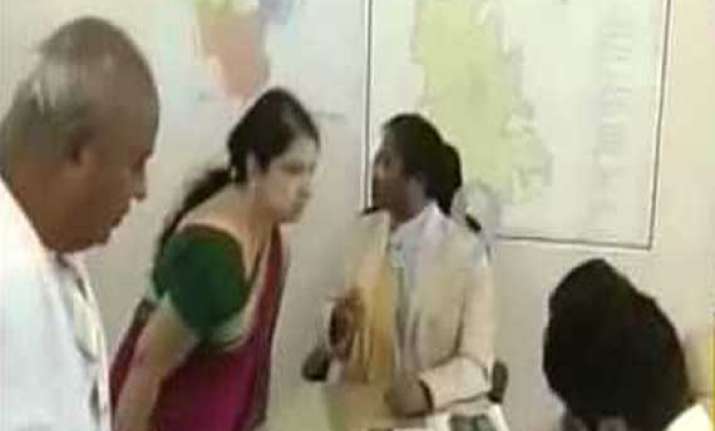 Bangalore : About 50 candidates belonging to national and regional parties as well as independents filed nominations for the Lok Sabha elections in Karnataka slated for April 17.
"Since we notified the polls Wednesday, 50 candidates have filed papers in 23 of the state's 28 parliamentary seats during the last two days," state chief electoral officer Anil Kumar Jha told reporters here Thursday.
Of the total nominees, 12 are from Bharatiya Janata Party (BJP), seven from Congress and one each from Janata Dal-Secular (JD-S) and National Congress Party (NCP) while independents were 19.
Among the prominent Congress candidates filing papers were Railways Minister Mallikarjun Kharge from Gulbarga (reserved), Petroleum and Natural Gas Minister M. Veerappa Moily from Chikkaballapur and former chief minister N. Dharam Singh from Bidar.
Former BJP chief ministers B.S. Yeddyurappa will contest from from Shimoga and D.V. Sadananda Gowda from Bangalore North.
Youth Congress nominee Rizwan Arshad filed from Bangalore Central, where he will face sitting BJP member P.C. Mohan and Aam Aadmi Party (AAP) candidate and former Infosys director V. Balakrishnan.
"Of the total, 21 candidates filed papers on Wednesday from 17 constituencies across the state. As some candidates filed more than one set of papers, we have received 83 nominations so far," said Jha.
Regional party - Karnataka Paksha president Ashok Kheny filed from Hassan to contest against JD-S supremo and former prime minister H.D. Deve Gowda.
Kenny, a lawmaker from the Bidder assembly segment in northern region of the state, is managing director of the Bangalore-Mysore infrastructure corridor project (Nice).
Nominations will be received up to March 26, while scrutiny is March 27 and withdrawal till March 29.
Campaign ends April 15 and counting will be May 12 as in rest of the country.
"Our drive against violation of the model code of conduct to ensure free and fair elections has led to seizure of Rs.75 lakh in cash, 10,700 litres of liquor valued at Rs.60 lakh, 2,000 T-shirts, 63 saris and 1,500 caps across the state since March 5," Jha added.
The state poll panel has already deployed expenditure observers in all constituencies to monitor expenses incurred by the parties and their candidates.