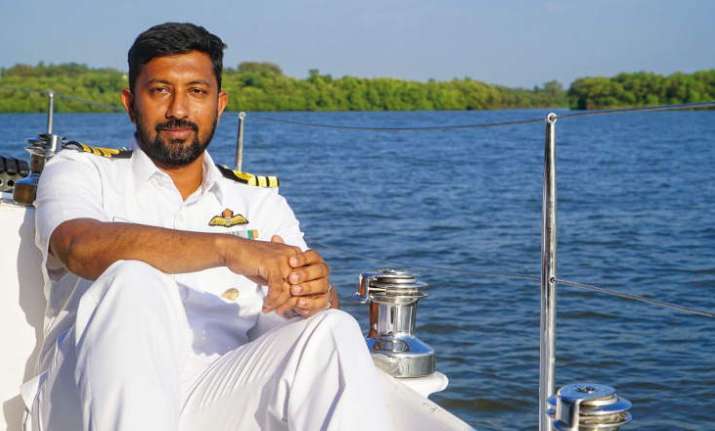 Four days after he was seriously injured and stranded in a boat race, Commander Abhilash Tomy of the Indian Navy was rescued on Monday. Commander Tomy was picked up by a French fishing vessel Osiris, which had responded to an SOS from a massive joint operation launched by Indian and Australian authorities since the past three days.The naval sailor-cum-sportsperson participating in the GGR-2018, was caught in a huge storm on Friday, 5,020 km from Cape Comorin, India and 3,500 km from Perth, Australia, in the Indian Ocean. His boat, SV Thuriya, had overturned while he was virtually left paralysed with severe back injuries but managed to relay messages to various authorities from his satphone.
Who is Abhilash Tomy?
With roots in Kerala's Alapphuzha, Abhilash Tomy spent his early days in Naval bases across the country as his father was working with the Naval police. According to reports, Tomy is the first Indian and second Asian to complete a solo non-stop circumnavigation around the world on a boat, which kickstarted on November 1, 2012 and ended in the year 2013 on March 31. 
Tomy was bestowed with the Kirti Chakra and Tenzig Norway National Adventure Award. He was also awarded the MacGregor medal, which is awarded to personnel from the Indian Armed Forces for extraordinary military reconnaissance. 
ALSO READ | Commander and Golden Globe Race skipper Abhilash Tomy rescued from Indian ocean
He was representing India in the Golden Globe Race 2018 (GGR) on an indigenously-built sailing vessel 'S V Thuraya'.
Tomy, who became the first Indian to circumnavigate the globe in 2013, is the only Indian participating in the race that involves a gruelling 30,000-mile solo circumnavigation of the globe.
His vessel was in the south Indian Ocean, about 1,900 nautical miles from Perth in Australia.
Tomy's vessel was dismasted in extremely rough weather and sea conditions, with wind speeds of 130 kmph.
He was in the third position in the race and had sailed over 10,500 nautical miles in the last 84 days, since the race started on July 1.
Watch Full Video: Abhilash Tomy's rescue from Indian Ocean