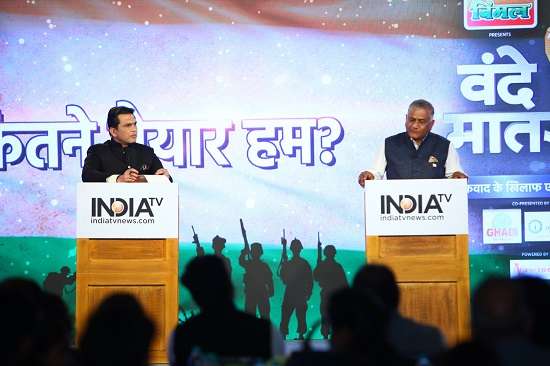 Mos General V.K Singh, on Saturday said that Balakote Airstrike was a conclusive decision taken against terrorism and this action against terrorists shows India's war preparedness.
"Masood Azhar and China are not related to our preparedness against terrorism. The fight against terrorism is an ongoing fight, you cannot achieve the desired results within a day", he added.
Speaking at IndiaTV's mega conclave on terrorism - 'Vande Mataram', General V. K. Singh said, "We continue to see China the same way before and after the Pulwama terror attack. China has a huge investment in Pakistan so it is compelled to support Pakistan in all possible ways and manners."
"China sees itself in an important role and so it should also take hold of some relevant responsibilities," he added when asked about China supporting Pakistan.
Further he said, "If America can kill Osama Bin Laden in Pakistan's Abbottabad, India can also take such an action against Masood Azhar." 
"Indian Army never had a dearth of volunteers willing to join the forces. If we make it compulsory then several factors like its impact on children's education will be needed to be taken into consideration," General V. K. Singh said at IndiaTV's Vande Mataram Conclave on terrorism.