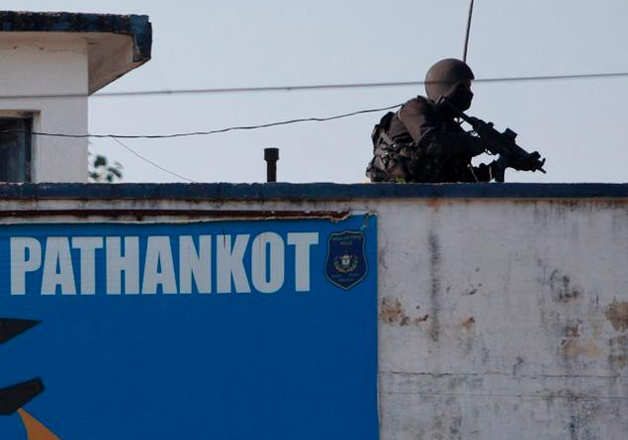 The United States has strengthened India's assertion that Pakistan-based Jaish-e-Muhammed (JeM) handlers were involved in the terror attack on the Pathankot IAF base earlier this year. In a dossier handed over to the National Investigation Agency (NIA), it has mentioned that the four fidayeen of JeM were in regular touch with their handlers in Pakistan.
According to a report in Times of India, the dossier comprises over 1,000 pages of chats and conversations between handler Kashif Jaan and the four fidayeen (Nasir Hussain of Punjab province; Abu Bakar of Gujranwala; Umar Farooq and Abdul Qayum Sindh), who were killed by the Indian security forces.
The conversations prove that terror strike on the frontier IAF base was plotted on Pakistani soil.
The documents also include Jaan's conversations with other Pakistan-based JeM office-bearers apart from other exchanges over a period of time.
It further revealed that Jaan, apart from using messaging app 'WhatsApp' and other platforms, was also active on a Facebook account. This particular Facebook account, which also contained comments condemning the Pakistani government's crackdown on JeM cadres following India's pressure to act against jihadists, was connected to the same mobile number which the attackers called from Pathankot after abducting Punjab Police SP Salwinder Singh.
The terrorists had also called another number in Pakistan connected to a Facebook account of 'Mulla Daadullah', it said.
NIA officials said that they are now analysing the documents and appropriate steps will be taken.
The NIA had in April requested their US counterpart to help it to burst the conspiracy behind the Pathankot terror attack. NIA director general Sharad Kumar, during his visit to the US, had sought help from the FBI.
The latest proof shared by the US is expected to strengthen India's case when Union Home Minister Rajnath Singh will raise the issue of Pakistan's sustained support to cross-border terrorism during his two-day visit to Islamabad next month.
Four Pakistani militants had attacked the IAF base in January this year and killed seven security personnel. The attack had led to a downslide in bilateral ties between the two sides.
India has repeatedly asserted the involvement of Pakistani nationals in the attack but Islamabad has refused to accept the fact saying New Delhi has not provided 'enough evidence'. A five-member joint investigating team (JIT) from Pakistan had visited India in March to probe the Pathankot attack, but there has not been much headway into the investigation.