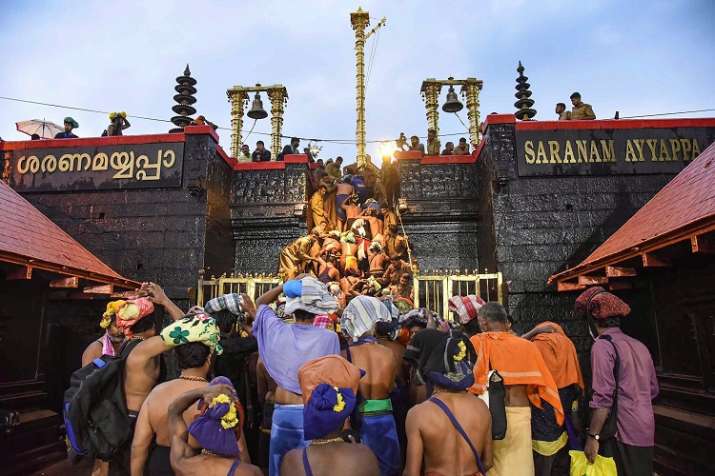 The Sabarimala temple re-opened on Friday evening for the two-month long pilgrim season amid high security  even as protesters persisted with their opposition to the entry of menstrual age women into the shrine.
There was high drama at the Nedumbassery Airport in Kochi when social activist Trupti Desai, who vowed to offer prayers at the hill shrine, along with six other young women associates, was blocked from leaving for Sabarimala as a large number of devotees staged a "nama japam" protest clapping hands and chanting 'Swamiye Ayyappa'.
Also Read | Sabarimala temple opens for two-month-long pilgrim season, Devaswom Board to approach SC seeking more time for implementing order
Desai and her associates were held up inside the airport for over seven hours.
Police in large numbers were present in the domestic terminal of the airport to deal with the situation.
Amid over a 12-hour stand-off with devotees and others, including BJP workers, at the airport here vowing not to let her proceed to the Sabarimala shrine, activist Trupti Desai said police had asked her to return to Pune.
Trupti Desai later decided to return to her hometown Pune. ​Desai announced she would return as police informed her that there would be law and order problem if she visited the shrine, but vowed to come back to Kerala soon to have darshan of Lord Ayyappa. 
 
"We will soon come back to Kerala to visit Sabarimala but we will not declare it in advance and come," the Bhoomatha Brigade leader she told reporters at the airport after failing to proceed to the temple, which opened Friday evening for two-month long pilgrim season.
According to airport sources, Desai and her colleagues have booked tickets on a Mumbai flight scheduled for departure later Friday night.
Also Read | Sabarimala issue: Congress, BJP boycott all-party meeting ahead of temple opening; will abide by SC decision, says CM Vijayan
Meanwhile, the Travancore Devaswom Board, which manages the Sabarimala shrine, decided to approach the Supreme Court seeking more time to implement its order allowing women in the menstrual age to offer prayers at the Lord Ayyappa temple.
The decision was taken after discussion with legal experts and board members, TDB President A Padmakumar told reporters here, a day ahead of the commencement of the two-month long annual pilgrim season.
IGP Vijay Saleem has asked police personnel to follow strict dress code at Sabarimala, while exemption has been given to cops at the holy 18 steps.
Over 15,000 personnel, including women police personnel and 860 women civil police officers, would be deployed during the season, when lakhs of devotees from different parts of the country are expected to throng the shrine.
Prohibitory orders under Section 144 CrPC banning assembly of four or more people is also in force in and around Sabarimala from midnight Thursday for a week.
The 41-day mandalam festival will conclude on December 27 after Mandala pooja, when the shrine will close after the 'Athazhapuja' in the evening. It would reopen for the Makaravilakku festival on December 30.
The Makaravilakku festival would be celebrated on January 14 after which the shrine will close on January 20, marking the culmination of the pilgrim season, when lakhs of devotees are expected to throng the shrine.
( With inputs from PTI )