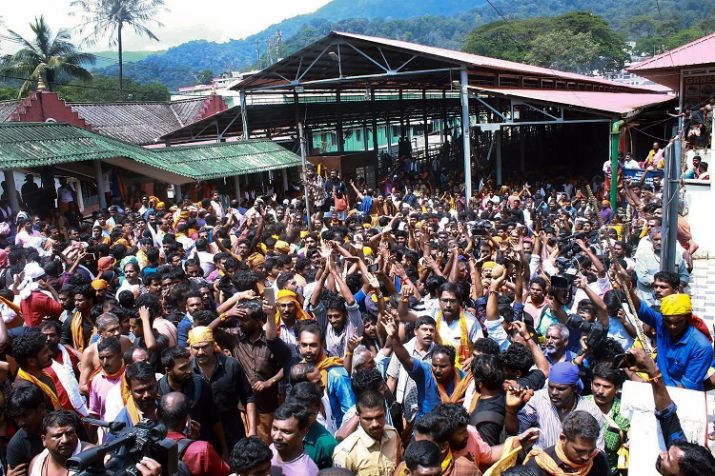 Kerala remains on boil over the Supreme Court verdict ending the decade-old ban on women's entry to the Sabarimala shrine. Over 3,345 protesters who prevented women from entering the shrine have been arrested since October 26 while 517 cases have been registered at various police stations across Kerala, authorities said on Sunday.
Earlier in the day, Sabarimala tantri family member and activist Rahul Eashwar was arrested here taking the total number of arrests 3,346. He has been taken to Kochi.
Eashwar was arrested after the police received a complaint stating that he had made provocative remarks over the issue at a press conference in Kochi last week.
Over 500 arrests have been ecorded at police stations in Pathanamthitta district -- where the Lord Ayyappa shrine is located -- as well as Thiruvananthapuram, Kozhikode and Ernakulam in the last 12 hours.
So far only 122 are in remand, while others have been released on bail, according to the police.
However, Kerala Police chief Loknath Behra has directed that no arrest should be made of those people who protested by taking part in singing hymns and prayers.
These arrests have been made for defying the September 28 Supreme Court order that overturned a ban on women of menstrual age (10-50 years) from entering the hilltop temple where celibate deity Lord Ayyappa is worshipped.
Defending the arrests, state Communist Party of India - Marxist (CPI-M) Secretary Kodiyeri Balakrishnan on Sunday told the media that this wasnormal police action when the rule of law is breached.
"During the previous Congress-led UDF rule, over four lakh cases were registered against our workers. Is it not natural for the police to act when rules are broken?" asked Balakrishnan.
Kerala has been witnessing protests against the entry of girls and women of menstrual age into Sabarimala temple since the government had said it would abide by the ruling of the apex court.
The agitation intensified since the shrine was opened for the five-day monthly pooja on October 17. The Sabarimala temple closed down for the month on Monday with not a single woman being able to visit the shrine due to the protests that followed the Supreme Court's verdict overturning the ban on the entry of women of a menstrual age.
Earlier on Saturday, ashram of Swami Sandeepananda Giri in Thiruvananthapuram's Kundamankadavu was attacked by unidentified miscreants. Swami Sandeepananda had supported the Supreme Court's decision to allow the entry women of all ages into the Sabarimala temple.
On September 28, a five-judge Constitution bench of the Supreme Court, headed by then chief justice Dipak Misra in a 4:1 judgment had lifted the centuries-old ban on the entry of women of menstrual age into the shrine.