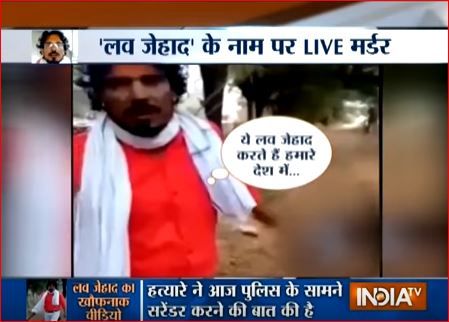 A day after a horrific video showing a man hacking to death another man, burning his body and then issuing a warning against 'love jihad' comes an equally chilling revelation.
According to the police, the video, that has sent chills down the spine of millions of users on the internet across India, was shot by the minor nephew of the accused.
This comes a day after Shambhulal Regar, 36, killed a migrant labourer, Mohammed Afrazul, burnt his body, and circulated videos of the incident.
The victim has been identified as, Afrazul, 48, was a resident of Malda in West Bengal. In the video that has gone viral, Regar is seen attacking Afrazul with an axe-like weapon, before burning the body.
Regar was absconding after the murder along with his minor nephew and 12-year-old daughter. He was arrested on Thursday morning from the house of a relative in Kelwa.
Inspector General of Police, Udaipur range, Anand Shrivastava, said his nephew had also been detained.
"We have also detained his minor nephew as it was he who shot the videos, including that of the murder," he added.
The Rajasthan police have also rejected the claims of Regar's family that he was a drug addict and mentally unstable.
The police said preliminary investigations showed there was no reason to believe that Regar was mentally unstable or was addicted to drugs.
"At present, it doesn't look like Regar was addicted to drugs. Till a year ago, he had a fairly successful marble trading business," said IG Shrivastava.
Speaking to mediapersons after his arrest, Regar claimed he had committed the murder because he felt "threatened".
"They ran away with a girl from our colony… I helped her, after which I got death threats. I knew the girl since childhood as her brother used to study with me. They gave me an ultimatum, that I would have to die," he alleged.
However, the deceased's relatives denied this and said Ashraful had nothing to do with any such incident and that the allegations were baseless.
"He has three daughters back home and was nearing 50. Why would this incident from many years ago be the reason for his death?" Afrazul's cousin, Mohammed Salik Sheikh, asked.
One of the videos shot after the murder shows Regar warning "Hindu sisters" not to fall into the trap of "love jihad".
He also made several inflammatory remarks, and alleged that history was being "changed" under the influence of Islam.