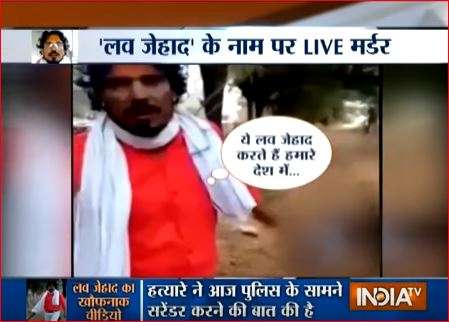 In a shocking incident, a Muslim labourer in Rajasthan's Rajsamand district was hacked and then burnt alive over alleged 'love jihad'. The perpetrator of the heinous crime even recorded the video of the act which was later circulated on the social media.
In a video that is doing the rounds, Shambhu Raigar, donning a red shirt and white pant, can be seen beating Mohammad Bhatta Sheikh and later pouring kerosene on his body.
Raigar, in the video, said that he wants to wipe out Islamic jihad from Mewar and hence he has taken such a step. He even said that he is not aware whether whatever he has done is good or bad. In a video which is circulating on social media since Tuesday, Raigar can also be seen saying that those who indulge in 'love jihad' will face the same fate.
Raigar even claimed that he will surrender before the police, though no arrests have been made in the case yet.
Meanwhile, Rajasthan Home Minister Gulab Chand Kataria has set up a Special Investigation Team (SIT) to investigate the matter. Internet services have also been suspended in nearby areas.
WATCH FULL VIDEO HERE: