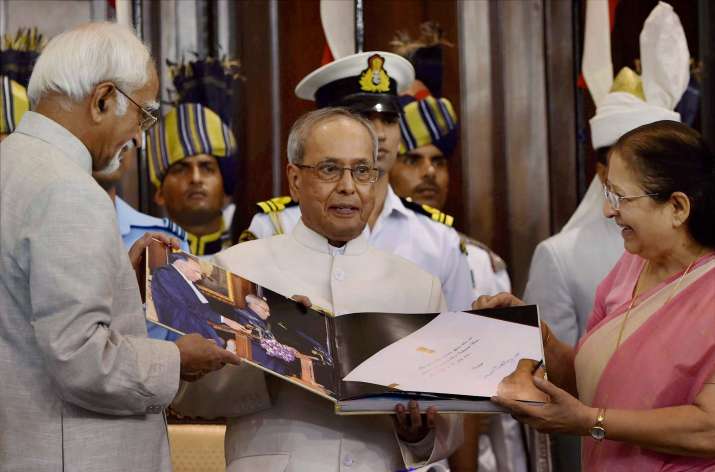 As Parliamentarians on Sunday bid adieu to Pranab Mukherjee at a gala ceremony in the Central Hall of Parliament, the outgoing President hailed the Indian democracy and highlighted how his years in the Parliament shaped his "political outlook and persona." Eighty one-year-old Mukherjee was received by Vice President Hamid Ansari, Prime Minister Narendra Modi, Lok Sabha Speaker Sumitra Mahajan and Parliamentary Affairs Minister Ananth Kumar at Parliament for the farewell ceremony. 
In her speech, Mahajan said, "This is a solemn occasion for each one of us to express our profound respect to President Mukherjee." 
Ansari lauded Mukherjee for his "unshakable belief in the idea of India" and said he often appealed to the people to re-dedicate themselves to the democratic values of the country. 
Full text: President Pranab Mukherjee's farewell speech in Parliament
In his fareweel speech, Mukherjee said as the President, "I have tried to protect, preserve, defend the Constitution, not just in letter but in spirit as well."
Mukherjee also stressed upon pluralism and diversity "as the greatest strength" of the country. 
"If I say I am a creation of this Parliament. It shaped by political outlook and persona," the outgoing President said. 
Ansari also complimented Mukherjee for the manner in which he essayed the role of the president. "He brought great distinction and dignity to the top office. His views on national and international issues have enhanced the stature of the office." 
Mukherjee expressed gratitude to the parliamentarians for the farewell. 
"After Independence, we undertook to promote fraternity, dignity and unity of the nation. These ideals became the lodestar for the country," Mukherjee said. 
Mukherjee remembered his "mentor", former Prime Minister Indira Gandhi as a "towering personality."
"My career as a Parliamentarian was no doubt mentored by Shrimati Indira Gandhi. Her steely determination, clarity of thought and decisive actions made her a towering personality. She never hesitated to call a spade a spade," Mukherjee said as he related an interesting incident that happened in London after the Congress' defeat post Emergency.
"I remember after the defeat of Congress in the post-Emergency election, we had gone to London in November, 1978. A large number of media persons in a fairly aggressive mood were waiting to ask Shrimati Gandhi questions. 
The first question that was flung at her was, 'What have been your gains from the Emergency?' Looking at the journalist squarely in the eye, in a level voice, Indira Gandhi replied, 'In those 21 months, we comprehensively managed to alienate all sections of Indian people'," Mukherjee recalled.
After a few seconds of silence, there was laughter, he said.
"Nobody after that asked a question about Emergency and the mediapersons melted away," he said. 
He asked the members to avoid frequent disruptions in Parliament saying it hurt the opposition more. 
"During my years in Parliament, I learnt that it stands for debate, discussion and dissent. I also learnt that disruptions hurt the opposition more," he said. Mukherjee also said the government should avoid the ordinance route as it should be reserved only for compelling circumstances. 
"It should not be taken for matters being considered for discussion (in Parliament)," he added. 
He concluded by saying, "I leave this magnificent building with a rainbow of memories and a sense of fulfilment and happiness of having served the people of this country as their humble servant."