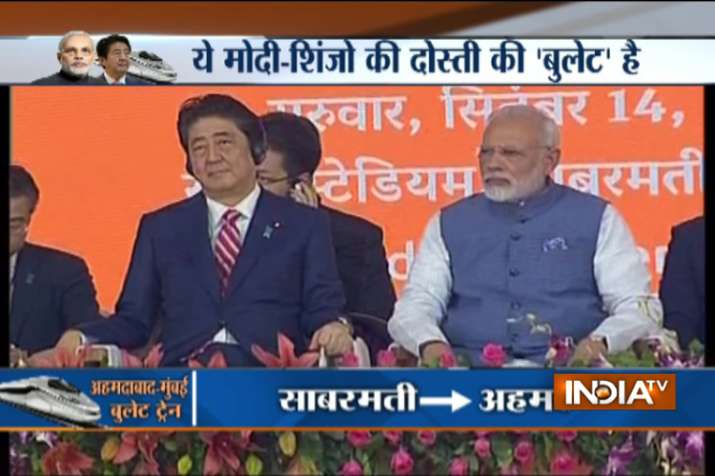 Prime Minister Narendra Modi and Japanese Prime Minister Shinzo Abe on Thursday laid the foundation stone for the ambitious Rs 1.08 lakh crore ($17 billion) 508-km Ahmedabad-Mumbai High Speed Rail in Ahmedabad.
The high speed rail project is scheduled to be completed by 2022, has been financed by Japan. Of the Rs 1.08 crore, Japan has provided a loan of Rs 88,000 crore at a minimal interest of 0.1 per cent for 50 years. The repayment of the credit will begin only after 15 years.
The first tranche of the loan, Rs 6,000 crore, would be released immediately, while the remaining tranches will come after the completion of land acquisition.
About 825 hectares of land would be acquired for the project. Of the 508 km stretch, 92 per cent (468 km) of the route will be elevated, six per cent (27 km) in tunnels and the remaining two per cent (13 km) will be on the ground .
The high speed train would also pass through the country's longest tunnel of 21 km, of which seven km will be under the sea.
Twelve stations have been proposed that include Mumbai, Thane, Virar, Boisar, Vapi, Bilimora, Surat, Bharuch, Vadodara, Anand, Ahmedabad and Sabarmati.
The distance will be covered in two hours and seven minutes if the train stops at four stations -- Ahmedabad, Vadodara, Surat and Mumbai. If the train stops at all 12 stations, it will cover the distance in two hours and fifty-eight minutes.
According to Railway Ministry officials, the operating speed of the bullet train would be 320 kmph and the maximum speed would be 350 kmph.
Speaking at the foundation-laying ceremony, Japanese PM Shinzo Abe said the day marked a new beginning in India's development and hoped that the next time he comes to India, he travels with PM Modi on a bullet train. Beginning his speech with 'Namaskar', Abe said that two years ago, Modi decided to embark on a project to bring the bullet train in India and he, along with his colleagues have vowed to support India in this endeavor.
Addressing the Prime Minister as a 'dear friend', Abe referred to Modi as a far sighted leader. He (Modi) made a decision of making a New India and chose Japan as partner, we completely support it, PM Abe said. The Japanese Prime Minister also promised support India in its endeavors to ensure safety of the Indian railways network.
Prime Minister Narendra Modi also addressed the gathering that also included Railways minister Piyush Goyal and chief minsters of Maharashtra and Gujarat Devendra Fadnavis and Vijay Rupani. Modi said he was obliged to PM Abe for visiting India to lay the foundation for the Bullet Train project and said that the combined resolve of India and Japan will make this project a resoundiung success.
"We are celebrating 70 years of independence, my dream is that when India completes 75 years of independence in 2022, we travel in high-speed rail," PM Modi said.
Praising Japan and PM Abe, Modi said India has a friend which has given Rs 88,000 crore in loan at 0.1 per cent interest. "Would you believe if someone promises you to give loan without interest and asks us to pay in 50 years?"
We are lucky to have a friend which has given us Rs 88,000 crore lone on near zero interest for 50 years, Modi said, adding that the project would come as a big boost to Make In India and provide job opportunities to many.
Later in the day, Modi and Abe will participate in the 12th Annual Bilateral Summit in state capital Gandhinagar.
This will be the fourth annual summit between Modi and Abe, where they are expected to review the progress in the multifaceted cooperation between India and Japan under the framework of their Special Strategic and Global Partnership.
Abe arrived here on Wednesday on a two-day visit and was received by Modi at the airport who then took the visiting dignitary and his wife to the historic Sabarmati Ashram and a famous 16th century mosque before indulging in dinner diplomacy at a heritage property.
(With IANS inputs)