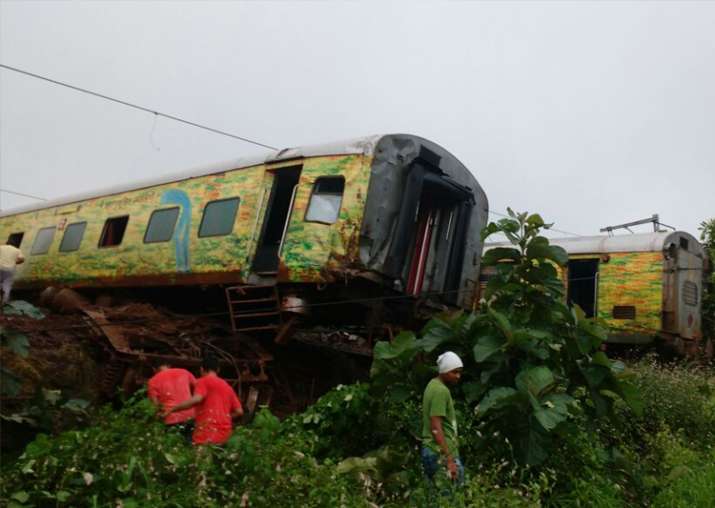 Duronto Express, heading to Mumbai from Nagpur, was derailed between Asangaon and Vasind railway stations in Maharashtra on Tuesday morning. No passenger was reported to be injured in the incident, Sunil Udasi, chief PRO of the Central Railway, said. 
Appreciating the driver's prompt action, Udasi said, "The driver applied the emergency brakes on time. Stranded passengers were being shifted to their destination by buses and taxis. Top Central Railway officials rushed to the spot to supervise relief and rescue operations."
As a result of the derailment, the suburban local train services of the Central Railway in Mumbai and Thane were affected hitting morning peak hours and commuter traffic. Eight coaches and engine of the train derailed, and the incident is suspected to have been caused due to mud landslide.    
"The entire railway line has been affected, including the suburban services in the Mumbai-Thane sectors, hitting morning office peak hour commuters hard," Udasi said.
"There were no reports of any casualties or injuries so far in the incident which occurred at around 6.30 am between the Asangaon and Vashind stations. Engine and nine coaches of the Duronto Express derailed. Prima facie it appears landslide due to heavy rains caused the accident," Railways spokesperson Anil Saxena said.
However, an eye witness travelling in the train, told PTI that  some passengers suffered minor injuries. "We could not understand what happened. Few people were stuck in the washrooms and were rescued by fellow travellers breaking glasses of the windows," Justin Rao, the eye witness, said. 
This is the third derailment incident in the country within a short span of 10 days. Fourteen coaches of the high-speed Utkal Express jumped the tracks on August 19, with one of them crashing into a house adjacent to the track near Khatauli in Uttar Pradesh's Muzaffarnagar district, claiming 23 lives and over 60 injured.  On August 25, six coaches of the Andheri-bound local train derailed in Mumbai, injuring six of its passengers.