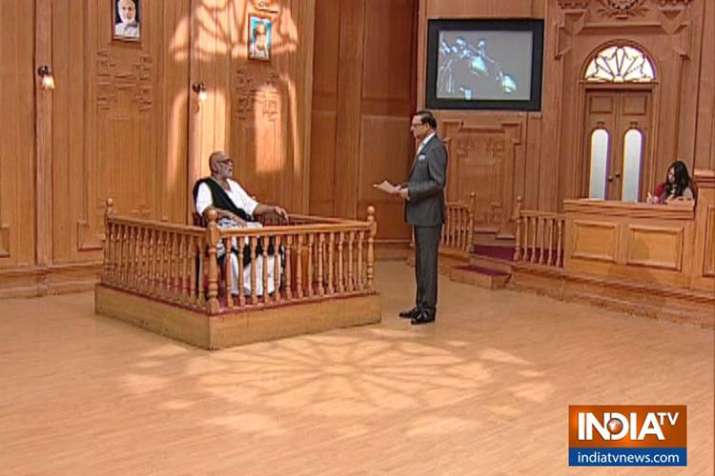 The noted Ram Katha preacher Shri Morari Bapu, has appealed to the Supreme Court not to delay its hearing on the vexed Ram temple dispute in Ayodhya, so that the temple could be built soon. 
Replying to questions from Rajat Sharma in the 'Aap Ki Adalat' show, telecast on Saturday night, Morari Bapu said: "My innermost soul wants that the temple should be built at Lord Ram's birthplace in Ayodhya. I appeal to the Supreme Court not to postpone its hearing fixed for January 29. The sooner the verdict comes, the easier it would be to take the next step."
He added: "Modiji might be having his own views. He wants to follow the Constitution. I would appeal to the Supreme Court to deliver its verdict soon, so that the people of India can know where they stand, and from which path they can enter the Ram temple. "
On Congress leader Mani Shankar Aiyar's remark about King Dashrath's palace having hundreds of rooms and there was no certainty in which room Ram was born, Morari Bapu replied: "Well, Ram had a palace, where he was born. So the temple has to be built there."
Morari Bapu said: "Politicians mostly resort to 'saam, daam, dand, bhed' (carrot, stick, bargain, divide). But nobody can question the patriotism (rashtra-bhakti) of our Prime Minister."
WATCH VIDEO:
Asked about his assessment about Lok Sabha elections since he visited rural areas frequently, the Ram Katha preacher replied:" I have travelled to many villages, spoke to people. They did speak about alternative, and most of them wanted an alternative."
Asked by Rajat Sharma what if no good alternative was found, Morari Bapu replied: "Well, the present one (Modi) is already working."
The Ram Katha preacher said, "Much good work has been done by Prime Minister Narendra Modi's government, but it is difficult to fulfill the demands of all.. I am not a politician to tell people whom to vote. It is for the voters to listen to their own conscience and vote for whom them prefer."
On Congress president Rahul Gandhi's frequent visits to temples, Morari Bapu said: "I welcome this. At least a half-filled glass has come in front of me."
On some Hindu saints questioning his discourse to sex workers at a gathering in Ayodhya, Morari Bapu replied: "I want to clarify. It was not a stunt. It was my stand in favour of the exploited, the downtrodden and the marginalized sections of society. 
"Some people may have been angry, but it was the poet Tulsi Das, who himself wrote in praise of sex workers. He wrote the Ramcharit Manas in Ayodhya in 1631. I thought why shouldn't I give my discourse to sex workers in Ayodhya itself. Ayodhya is a holy city that absolves one of all sins. "
On the controversy raised over UP CM Yogi Adityanath comparing Lord Hanuman with the tribals and Dalits, Morari Bapu said: "Lord Hanuman is Pawan Putra (son of Wind), who has no caste, no religion. 
When Hanuman first met Lord Ram, he took the form of a Brahmin. When he fought the rakashasas, he took the form of a Kshatriya. He served Lord Ram for the rest of his life like a Shudra."
FULL VIDEO: Morari Bapu in Aap Ki Adalat