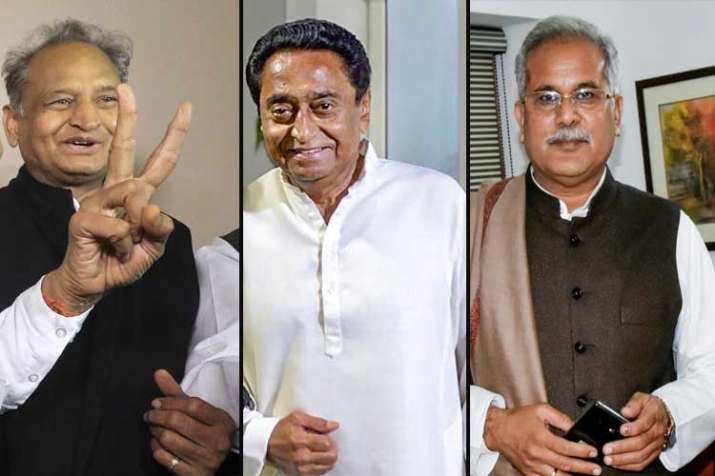 After stunning victory of Congress in Chhattisgarh, Madhya Pradesh and Rajasthan, chief ministers of the three key states will be sworn in at different ceremonies in their respective states on Monday. In Chhattisgarh, the Congress party made an impressive comeback after a long gap of 15 years by winning 68 seats in the 90 seat assembly, while the Bharatiya Janata Party was relegated to a distant second spot, winning just 15 seats. BSP and Ajit Jogi's Janata Congress Chhattisgarh won in two and five constituencies each. BJP's ambition to claim victory in Rajasthan suffered a major setback when Congress emerged as the single-largest party by winning 99 seats while BJP managed to get only 73 seats. The Bahujan Samaj Party won six seats, while CPI (M) won 2, Independents for 13 and other parties managed six seats. In Madhya Pradesh, Congress got 114 seats in the 230-seat Madhya Pradesh Assembly, along with support from Mayawati's Bahujan Samaj Party (BSP) and Akhilesh Yadav's Samajwadi Party paving the way for returning to power in the central state after a gap of nearly 15 years. 
Congress President Rahul Gandhi will attend all the three swearing-in ceremonies on Monday. It is expected that the opposition will throw up a picture of "opposition unity" with the presence of various leaders. Some of the top leaders likely to attend the three ceremonies are Andhra Pradesh Chief Minister Chandrababu Naidu, Aam Aadmi Party's Sanjay Singh, Janata Dal (Secular) chief and former prime minister H D Deve Gowda, Loktantrik Janata Dal leader Sharad Yadav, National Conference's Farooq Abdullah.
CHHATTISGARH: BHUPESH BAGHEL TO BE SWORN IN AS CM 
Senior Congress leader and state party chief Bhupesh Baghel will be the new chief minister of Chhattisgarh. The decision was taken at the Congress Legislature Party (CLP) meeting held on Sunday. Only Baghel will take oath as the chief minister at 5 pm on Monday. Baghel's name was chosen after several rounds of discussion with the four aspirants for the post -- TS Singh Deo, Tamradhwaj Sahu, Bhupesh Baghel and Charan Das Mahant -- at his Tughlaq Lane residence in New Delhi on Saturday.
Baghel is a powerful leader of the OBC community which makes up 52 per cent of the state's 2.55 crore population. The five-time MLA was elected from Patan in Durg district. He was Revenue Minister in Ajit Jogi's first government in Chhattisgarh that was voted out in 2003. Baghel was also in the centre-stage of the ousted BJP government's attacks was recently jailed for some days in Raipur after being chargesheeted by the CBI for his alleged role in the circulation of a sleaze CD against a powerful BJP minister in Chhattisgarh. With the latest achievement, Baghel is being credited with leading the party from the front in the fight against the BJP and scripting the crushing defeat of the 15-year-old regime of Raman Singh. For complete profile, click here
MADHYA PRADESH: KAMAL NATH TO BE SWORN IN AS CM 
Veteran Congress leader Kamal Nath will take oath as Madhya Pradesh chief minister on Monday. After hectic parleys held by Congress President Rahul Gandhi, Nath was named as the next chief minister of Madhya Pradesh on December 14. Several discussions took place to whether pick 'old guard' Kamal Nath or 'young captain' Jyotiraditya Scindia. Kamal Nath will take oath at Jamboori Maidan on Monday. Earlier, when Governor Anandiben Patel had handed a letter of appointment for the top post to Kamal Nath, it was decided to have the oath-taking ceremony at the Lal Parade Ground but the venue was changed a day later.
Kamal Nath has the reputation of a go-getter who ceased to be an industrialist when he plunged into politics as a Sanjay Gandhi loyalist. A former union Minister, Kamal Nath is the senior most member of the Lok Sabha, having won nine elections and is expected to use his organisational experience to strengthen the party at the grassroots.  Kamal Nath has been a union Minister in different Congress-led governments and has also held organisational posts including being in-charge of Gujarat and Haryana in his nearly four decades of political career. A friend of the late Sanjay Gandhi, he was first elected to Lok Sabha in 1980. He was Minister of Environment and Forests as also Textiles Minister in the P.V. Narasimha Rao government. Kamal Nath was a key member of the two UPA governments and was Commerce and Industry Minister in 2004-09. In UPA-II, he held the portfolios of Road Transport and Highways, Urban Development and Parliamentary Affairs. As India's Commerce minister, he championed the cause of developing countries at WTO ministerial meetings. And everyone admits that Kamal Nath is one of those politicians who has friends across the political spectrum. For complete profile, click here
RAJASTHAN: ASHOK GEHLOT TO BE SWORN IN AS CM, SACHIN PILOT HIS DEPUTY
Senior Congress leader Ashok Gehlot will be sworn in as the next chief minister of Rajasthan, while Sachin Pilot will be the deputy CM. It is for the third time that the two-time chief minister Gehlot will take the reins of the state. The decision on his name was taken after a series of meetings with both Gehlot and Pilot. Rahul Gandhi even held discussions with sister Priyanka Vadra and mother Sonia Gandhi. 
Born in 1951 in Jodhpur, Gehlot cut his teeth in politics as a student leader and headed the Rajasthan unit of the National Students Union of India (NSUI), the Congress student wing. Elected five times to the Lok Sabha from Jodhpur, he steadily acquired political stature under late Prime Minister Rajiv Gandhi. He was a Minister under Prime Ministers Indira Gandhi, Rajiv Gandhi and P.V. Narasimha Rao.
Known for his proximity to both Congress President Rahul Gandhi and UPA Chairperson Sonia Gandhi, Gehlot has lately been the party's "go-to" man in important matters. Gehlot was given the charge of Gujarat just months ahead of the 2017 Assembly elections in Prime Minister Narendra Modi's home state where the Congress did not win but nonetheless gave a stiff fight to the ruling Bharatiya Janata Party (BJP). His long association with Rajasthan politics, including his two stints as the Chief Minister and as the former head of the party's state unit, will surely be of immense help to Gehlot who has represented the Sardarpura Assembly constituency in Jodhpur since 1999. For complete profile, click here 
WHO ALL TO ATTEND THE EVENT
A host of opposition leaders are expected to attend the swearing-in of Ashok Gehlot, Kamal Nath and Bhupesh Baghel as chief ministers of Rajasthan, Madhya Pradesh and Chhattisgarh respectively, on Monday. While Congress president Rahul Gandhi will be attending all the three oath-taking ceremonies, other prominent opposition leaders likely to attend the events include former prime minister H D Devegowda and Karnataka chief minister H D Kumaraswamy and former Jammu and Kashmir chief minister Farooq Abdullah.
While Andhra Pradesh chief minister N Chandrababu Naidu will be attending the events along with RJD leader Tejashwi Yadav, other leaders invited include AIUDF leader Badruddin Ajmal, TMC leader Dinesh Trivedi, and LJD leader Sharad Yadav. 
Sources said the Congress has also invited the Aam Aadmi Party and its leader Sanjay Singh is likely to attend the events. 
Among other opposition leaders who have been invited and are likely to attend the ceremonies include JMM's Hemant Soren, Jharkhand Vikas Manch leader Babulal Marandi, Swabhimani Paksh leader Raju Shetty and former Bihar chief minister Jitan Ram Manjhi. 
FULL VIDEO: Congress CMs of 3 key states to take oath on Monday