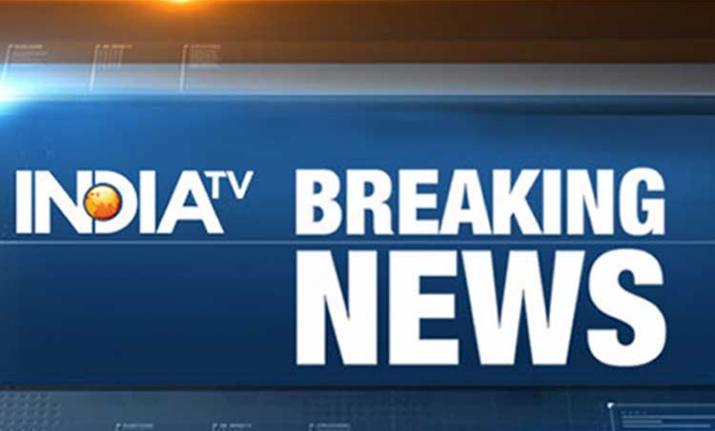 Daily dose of news plays very important role in our daily life. For some people, the morning is incomplete without knowing about what's happening across the world. Some digital-savvy people have a habit of consuming news even when they are travelling or in their free time. In today's world, where people rely on news websites for everything that's happening around, IndiaTV News provides you all breaking news, latest news, breaking story videos, Live TV and top shows of IndiaTV, country's leading news channel on a single platform to ensure you don't miss anything important.
Internet, Twitter, Facebook are buzzing with breaking news and news alerts from India and rest of the world. You can find here all breaking news alerts and latest news updates on just one page. IndiaTV Digital covers all top news as and when it happens and ensures its readers don't miss anything important.
BREAKING NEWS OF NOVEMBER 8: 
4:30 pm: Ventura County sheriff Geoff Dean says 11 victims killed in shooting at crowded Southern California bar, reports The Associated Press
4:18 pm:  Nitin, son of senior Congress leader Satyavrat Chaturvedi files nomination from Rajnagar on a Samajwadi party ticket.
4:05 pm: Andhra Pradesh Chief Minister N Chandrababu Naidu meets former Prime Minister HD Deve Gowda and Karnataka Chief Minister HD Kumaraswamy in Bengaluru
3:50 pm: Heroin worth Rs 200 crore seized from apple cartons in Delhi's Azadpur mandi. Police say the heroin was brought from J&K's Kupwara.
3:35 pm: 1 CISF jawan&4 civilians lost their lives&2 injured in the attack today. Morale of the forces will not be affected due to such attacks. The upcoming assembly elections will be conducted peacefully:V Sinha, IG Bastar: Visuals from the site of naxal attack near Bacheli,Chhattisgarh
3:15 pm: Dutch government has offered lawyer of Pakistani Christian Asia Bibi temporary asylum in the Netherlands, reports Reuters. Asia was acquitted last month by the Pakistan Supreme Court in a blasphemy case.
03:03 pm: The Kerala High Court further dismissed a petition filed by Prayar Gopalakrishnan, the former Travancore Devaswom Board (TDB) president, seeking removal of KP Sankardas, the current TDB Member, for allegedly violating the temple rituals.
03:00 pm: 'Protest in Sabarimala Temple is against the SC's verdict. The strike there is not justifiable', said Kerala High Court while rejecting bail plea of a native of Thrippunithura, who was one of the protesters stopping women devotees from entering in Sabarimala Temple&later arrested
01:56 pm: Authorities say multiple people were injured at a shooting at a bar in Southern California, US on Wednesday night, reports new agency AP
01:42 pm: Update: 4 casualties in the incident where Naxals triggered a blast on a bus near Bacheli in Chhattisgarh's Dantewada. 3 civilians and 1 CISF personnel have lost their lives.
01:27 pm: Elon Musk replaced with Robyn Denholm as Tesla's Board Chair, effective immediately
01:23 pm: Naxals trigger a blast on a bus near Bacheli in Chhattisgarh's Dantewada. Multiple casualties. Two injured CISF personnel have been shifted to hospital. More details awaited.
01:14 pm: Assam: All Assam Students Union (AASU) and 28 other organisations have staged protest in Guwahati against the Citizenship (Amendment) Bill,2016.
01:13 pm: Chhattisgarh: 2 Central Industrial Security Force (CISF) personnel have been injured in an IED blast near turning no. 6 under Bacheli police station limits in Dantewada district.
01:02 pm: BJP releases the third list of candidates for Madhya Pradesh Elections 2018
11:09 am: Foreign Office Spokesperson Dr Mohammad Faisal denied reports that Asia Bibi had left Pakistan, saying the recently acquitted Christian woman was still in the country: Dawn
10:55 am: Air India's permanent employees have been deputed to normalise the flights. Only early morning flights from Mumbai for delayed by 2 hours: Air India
10:41 am: Delhi: 2 children charred to death, 2 injured in Desh Bandhu Gupta road area last night after their shanty caught fire. The injured have been admitted to a hospital. The cause of the fire is yet to be ascertained. The four are members of the same family.
10:14 am: Shopian police have busted a hideout in Ramnagri. Incriminating material has been recovered. An investigation is underway. 
09:40 am: Due to a sudden industrial situation at Mumbai airport by AIATSL employees, some flights have got delayed. We are assessing the situation and all efforts are being made to minimise delays or disruption: Air India spokesperson
09:17 am: Gujarat govt contemplating changing the name of Ahmedabad to Karnavati, says CM Vijay Rupani
06:08 am: Petrol and diesel prices in Delhi are Rs 78.21 per litre (decrease by Rs 0.21) and Rs 72.89 per litre (decrease by Rs 0.18), respectively. Petrol and diesel prices in Mumbai are Rs 83.72 per litre (decrease by Rs 0.20) and Rs 76.38 per litre (decrease by Rs 0.19), respectively.
05:32 am: Delhi: According to the Air Quality Index (AQI) data, major pollutant PM 2.5 and PM 10 are at 500 (severe) in Lodhi Road area, on the day after Diwali
04:30 am: Delhi: Vehicles vandalised in a clash between two groups in Geeta Nagar today. Police present at the spot.