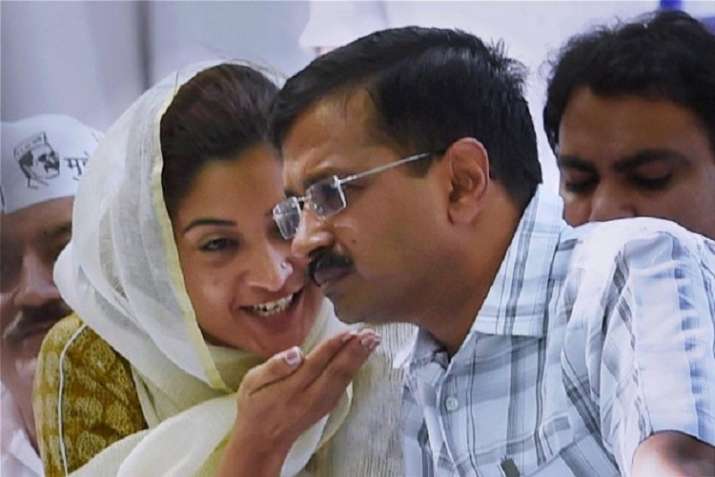 The Delhi's ruling Aam Aadmi Party (AAP) on Saturday rejected reports that it has asked Chandni Chowk MLA Alka Lamba to resign after she raised objections to passing of a resolution in the Assembly which aimed at  withdrawing Bharat Ratna awarded to late Prime Minister Rajiv Gandhi. In a desperate damage control move after the controversy, senior AAP leader and Education Minister Manish Sisodia addressed the media to clarify  over the issue.
"No resolution was passed in the Assembly mentioning late PM Rajiv Gandhi as being reported in the media. No one has been asked to resign. We are working peacefully," Sisodia said. He added that the original resolution moved by party MLA Jarnail Singh on the floor of the House had no mention of Rajiv Gandhi.
As per reports, AAP's resolution claimed that as Rajiv Gandhi failed to curb the 1984 Sikh riot, the prestigious award should be taken back. 
However, AAP MLA Saurabh Bharadwaj also sought to clarify over the issue saying that the para which mentioned Rajiv Gandhi cannot be considered a part of the resolution because it was 'handwritten'.
"Lines about the late Rajiv Gandhi were not part of the resolution placed before the house and distributed among members. One MLA in his handwriting proposed an addition/amendment about the late Rajiv Gandhi. Amendments cannot be passed in this manner," Bharadwaj said.
Another AAP MLA Somnath Bharti also came out to steer the party away from controversy. "I clarify that the amendment was not put to vote as an amendment and hence, there is no question of passing the same. Hope this answers the dispute conclusively," Bharti said. 
Jarnail Singh, AAP MLA: This (Bharat Ratna be taken back from Rajiv Gandhi) wasn't a part of the original resolution, it was my feeling and I said it. Technically it wasn't in the notice. pic.twitter.com/3KVYPKwNYZ

— ANI (@ANI) December 22, 2018
Interestingly, Delhi Chief Minister Arvind Kejriwal is yet to speak on the matter.
Delhi Assembly Speaker  Ram Nivas Goel said that there was a proposal for discussion on 1984 riots case and originally there was no mention o  Rajiv Gandhi in the  resolution. "The original resolution had no mention of Rajiv Gandhi ji, it was added by AAP MLA Jarnail Singh on his own in his speech, it is an emotional issue and people get swayed while speaking," Goel said.
'Drama', says Congress, BJP 
Former Delhi CM Sheila Dixit slammed the AAP for allegedly passing the resolution and said the party should first concentrate in resolving issues being faced by residents of the national capital. "They have no power or right to pass any such resolution," Dixit said.
Delhi Congress chief Ajay Maken too slammed the AAP and said that the issue has revealed 'true colours' of the ruling party.
"Rajiv Gandhi sacrified his lie for the country. True colours of AAP have come our in the open. I have always believed that AAP is the B team of BJP," Maken said.
The BJP, on the other hand, accused the AAP of misguiding the people of Delhi.
"There is total infighting in AAP, some leaders are in support of a resolution against Rajiv Gandhi and some are against. Basically, the AAP leadership is working on the directions of Congress, they just want to misguide people," BJP MLA and Delhi Leader of Opposition in Assembly, Vijender Gupta, said.
What actually happened
AAP MLA Alka Lamba on Friday night said she will tender her resignation as 'demanded' by Delhi CM Arvind Kejriwal for not supporting a resolution in the Assembly on revoking late PM Rajiv Gandhi's Bharat Ratna. 
The Delhi Assembly on Friday adopted a resolution on the 1984 anti-Sikh riots in which it was demanded that the Bharat Ratna awarded to former prime minister Rajiv Gandhi be withdrawn, but the AAP swiftly distanced itself from the reference to the Congress leader.
The matter became a major crisis with AAP MLA Alka Lamba alleging she was "put under pressure" to support the resolution, which she resisted and boycotted.
Lamba said she was ready to face "any consequences" and claimed she spoke to AAP supremo and CM Kejriwal who, she said, asked her to resign as MLA. "I am ready to do so", she said.
The Chandni Chowk MLA said she was not happy with the demand to take back Bharat Ratna from Gandhi and staged a walkout in protest.
"After I staged a walkout, I got a message from the chief minister to tender my resignation," she said. When asked whether she will quit, Lamba added, "I have won on a party ticket. I will tender my resignation as demanded by the party," the former Youth Congress leader said.
WATCH: Infighting in AAP over resolution to withdraw Rajiv Gandhi's Bharat Ratna