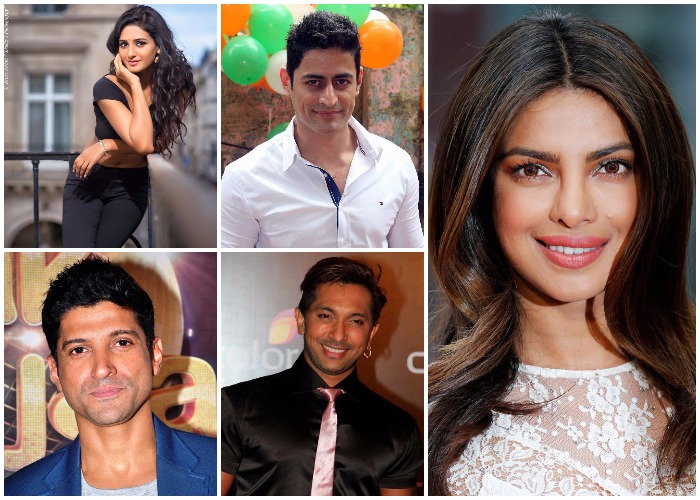 The life is the busiest city of India has come to a standstill due to torrential rains followed by waterlogging. Amid this chaos, many Bollywood celebrities including Madhuri Dixit, Terence Lewis, Sonakshi Sinha, Farhan Akhtar, Shakti Mohan, etc have extended their support to those who are stranded in rains. The rainwater has gushes inside hospitals as well leading to shifting of patients to the upper floor of the hospitals. After the heavy rain brought this lively city to its knees, film fraternity has united to help those in need. Here's how they are contributing their bit.
The celebrities took to Twitter on Tuesday to share their concern.
"BMC helpline 1916. Police helpline 100. Home is the safest for most. Find shelter and give shelter. Be safe Mumbai," Priyanka tweeted.
BMC helpline 1916. Police Helpline 100..Home is the safest.. for most. Find shelter and give shelter. Be safe Mumbai #mumbairains

— PRIYANKA (@priyankachopra) August 29, 2017
Choreographer Terence Lewis extended his support in the best way possible. He opened the door of his studios to those stranded in rains. Here's what he posted on his Instagram account. 
If u are around khar bandra or Santacruz, n need a dry safe place n hot chai, especially old people , women n children, you are most welcome to come to the studio : Nateshwar Bhavan CD marg khar Danda Road , between 16th n 17th road or if ur stranded in Andheri West u can take shelter at our Andheri studio : Laxmi industrial estate 155/156 Block 33 Near Clothes Rack Andheri west link road Mumbai 53 ! 
We have security at both these places! Take care Mumbai !
Also Read: Videos: Heavy rainfall cripples normal life in Mumbai, several dead
Similarly, Shakti Mohan opened the doors of her studios for helpless Mumbaikars. She wrote on Facebook:
#MumbaiRains 
People stuck in goregaon or Malad west can seek shelter in Nritya Shakti Studio
602, Shri Sai Corporate Park, Opp. Laxmi Nagar Industrial Estate, Bangur, Nagar, Goregaon West
Call: 022 28711281can
You will be taken care of. Stay safe
Singer-composer Vishal Dadlani requested the city to be well prepared.
"Mumbai, if you're getting into a car, make sure you have water, food and something to break windows with, if needed. Stay safe, help others," he said.
Please RT. #mumbaiheroes pic.twitter.com/FaOHXB031Z

— Farhan Akhtar (@FarOutAkhtar) August 29, 2017
Dia Mirza wrote: "Please do not venture out! If you can offer shelter to strays and people stuck in the rain please do. MCGM helpline number 1916."
Also Read: Mumbai Rains: Deepika Padukone, Madhur Bhandarkar and other Bollywood celebs urge fans to stay safe
Sonakshi wrote: "Mumbai rains really lashing down. Please stay indoors and be safe everyone. Help those who need it. BMC helpline 1916, police 100."
Sharing the important numbers to dial in case of emergency, Madhuri shared an image and wrote: "Some good numbers for all of us."
Farhan also shared an image of important numbers and asked people to reshare.
Television actor Mohit Raina asked people to stay safe and also give shelter to others if possible.
"Stay safe! Stay indoors Mumbai! Spread the word, open your doors for the needy, I just did that," he posted.
Celebrities such as Anupam Kher and R. Madhavan were not spared by the rain. 
"My car got stuck in heavy rains. Called a friend. He and his daughter came to my rescue. Now I am in his house," Kher tweeted.
Madhavan had to dump his car and wade through water to reach home.
"My silly car down. Had to bail and wade home in thigh deep water. Excitement and frustration," he wrote. 
(with IANS Inputs) 
For more Lifestyle stories, follow our Facebook page.